Source: Entangled Publishing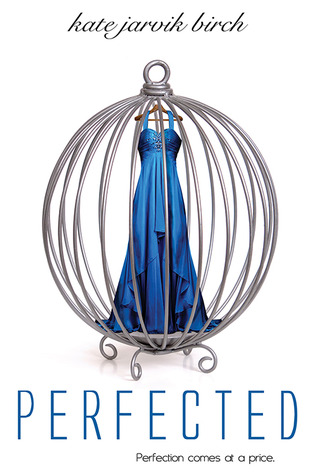 Perfection comes at a price.
As soon as the government passed legislation allowing humans to be genetically engineered and sold as pets, the rich and powerful rushed to own beautiful girls like Ella. Trained from birth to be graceful, demure, and above all, perfect, these "family companions" enter their masters' homes prepared to live a life of idle luxury.
Ella is happy with her new role as playmate for a congressman's bubbly young daughter, but she doesn't expect Penn, the congressman's handsome and rebellious son. He's the only person who sees beyond the perfect exterior to the girl within. Falling for him goes against every rule she knows…and the freedom she finds with him is intoxicating.
But when Ella is kidnapped and thrust into the dark underworld lurking beneath her pampered life, she's faced with an unthinkable choice. Because the only thing more dangerous than staying with Penn's family is leaving…and if she's unsuccessful, she'll face a fate far worse than death.
For fans of Keira Cass's Selection series and Lauren DeStefano's Chemical Garden series, Perfected is a chilling look at what it means to be human, and a stunning celebration of the power of love to set us free, wrapped in a glamorous—and dangerous—bow.
Hey everybody! Welcome back, today I've got an exciting review of a new release! I have the Amazon (click the picture) and Barnes & Noble links up above. I received a copy by Entangled Publishing but my review and opinions are all my own. :)
Perfected takes place in a world that's not much different from ours. Unlike other dystopians, the
government
is still very much in one piece and there hasn't been some major chaotic event that destroyed the world. The "dystopian" aspect came from the fact that science has now mastered the ability to genetically engineer beautiful girls who are sold as pets to the high and might. These girls are trained to be the epitome of perfection and "grace" their masters home to live a life of luxury. Ella comes from one of these "kennels" that trains these girls and gets them ready for sale. When she is bought by a powerful congressman, she expects that life wouldn't be much different from the one she already lives. But she is wrong. Living with the congressman and his family, Ella is exposed to luxury, riches, and the most dangerous one, love.
What definitely creeped me out about Perfected the most was the owning of human beings in a dystopian world that seems almost identical to ours. One of the side characters made this whole speech about how owning a pet was the equivalence to slavery and look at how hard our ancestors fought to abolish it from the country. Unlike slavery, these pets are girls who are made to entertain their owners and to look perfect for them. But like Penn said, it's a cage, even if it looks like a castle. ← Those words are probably one of the most chilling things he said in this book.
I loved Ella, she was a perfect MC and one that I completely adored from the start. She's a bit, okay, she's very clueless and naive, but it wasn't her fault. She was raised to be perfect, not to know how the world works, so you can't exactly blame her for thinking that the world is all sunshine and rainbows. But unlike other pets, Ella seems a lot more human. One of her two "talents" that the kennel assigned her to was playing and piano. When her fingers touch those ivory keys, it's not just Ella the pet playing to entertain her master, it's Ella the human being. Her piano playing brings out her passion, her emotion, things a pet should not have or express. Also, despite being very naive, Ella has a huge bucket of courage compared to other characters and that just made her an even more amazing person. She was scared of the unknown, of her feelings for Penn, but she wasn't going to let that stop her from exploring the truth.
Penn was just as amazing. He captured my heart from the very beginning and the ending stomped on it and killed me. He is a music man, preferring the magic of music over the debates of politics which doesn't suit his high and mighty father very well. He's just such a passionate character and he shows Ella what it means to be alive. My one problem with him was how weak he acted around his father. He became a bit scaredy cat and lost his "noble" appeal, BUT his actions at the ending had me giving him a standing ovation. He is an amazing character, the again, the ending killed me.
The other characters, despite being "side characters" were so amazingly depicted. Ruby was absolutely adorable. The congressman is one creepy man as are his fellow congressfolk. His wife on the other hand started out as a cold ice woman, but turned out to be an amazing savior. All the little details in the story made it absolutely perfect!
Highly highly recommend this story! It's perfect and beautiful and an absolutely stunning read! I'll leave with this paraphrased quote from Penn: Sometimes imperfect things can be beautiful too~
4 out of 5 stars