Source: YA Bound Book Tours: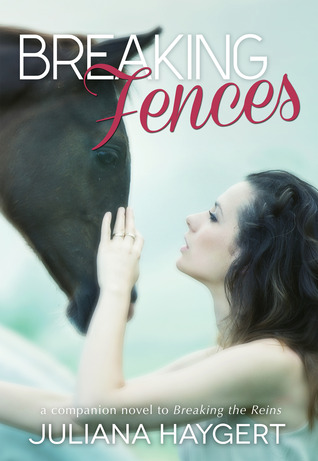 All Beatriz "Bia" Fernandes wants is to prove herself—to her family and friends—though it's hard to prove anything with an overbearing father and three famous polo-playing older brothers. After her acceptance into college results in a heated family argument, the Brazilian girl leaves everything behind to find her own American dream.
College life away from home is perfect until the people she believes to be her friends turn on her. With lies and rumors threatening to suffocate her, Bia turns to her only freedom. Riding.
But one thing gets in the way of her escape. Garrett Blackwell and his bad cowboy attitude. Working at the ranch is his obligation, bugging Bia is his newfound hobby. His thick skin and easy grin don't hide what Bia already knows—this misunderstood and lonely cowboy fights his own demons. Brushing horses' coats and mucking out stalls shouldn't be this sexy, and it isn't long before he becomes a part of her distraction.
However, escaping won't solve her problems, and it's up to Bia to break down the fences around her and prove her strength—not to her family and friends, but to herself … and for Garrett. Because standing on her own doesn't have to mean standing alone.
Hi everyone! Welcome to my stop on the Breaking Fences Book Tour! As always, don't forget to check out the other stops by clicking the tour banner above!
After being accepted to a college far from home, Bia is determined to prove to her family that she can survive out there alone. Her first day at college brings her to meet her roommate who is part of a sorority and is dying to become bffls. She also encounters her roommate's sorority sisters who are so super excited to have a "Brazilian" girl join their house. Of course, we can't forget Jonah and his frat boys who pretty much act like a bunch of jerks. All of sudden, Bia finds that the real world isn't exactly as easy as she thought. She has deal with a lot of racial stereotypes and discover who she really is inside. Oh, and a really cute cowboy with a dark past just adds more fun and drama to her life.
Breaking Fences follows the story of Bia as she struggles through college away from the protective barriers of home. When she arrives, her Brazilian background becomes the talk on campus as sorority houses fight for her to join their ranks. At first, she's enjoying herself as she jumps from party to party, but she soon realizes that most of her new-found friends are not who they pretend to be. She decides that she wants nothing to do with them which sets off a long period of unrelenting slut shaming. I think for me, this was the most important part of the story, it was what made it different from other books. We got to see the people instigating the whole shaming business and how Bia had to deal with it. And the only reason, the only proof they had that Bia was a slut was the fact that she was from Brazil. Apparently all girls from Brazil are sluts...if that's the real mindset Americans have...that will be very very sad.
While Bia dealt with the rumors and whispers behind her back, she found solace in a nearby ranch and a cowboy named Garrett. While there is visible chemistry between the two, everything's pretty low key for the first half of the book. Their relationship was pretty much just a very strained friendship because each wanted something more from the other but didn't want to overstep themselves. Overall, it was just very cautious, but still pretty adorable. :)
I felt like the ending was a bit rushed which made me a little bit sad. Is it bad that I wanted Bia to hold a harder grudge? That I wanted Garrett to actually convince her? It all happened really fast and really easy and after all that they had been through, I wanted a more satisfying conclusion. I did really love how Bia handled jerk-face Jonah and his annoying kind of girlfriends, but Bia definitely should have kicked her butt a lot more. Just saying ;) Either way, this story is super adorable and will definitely tug at your heartstrings. Especially Midnight, I almost forgot about Midnight. He's adorable