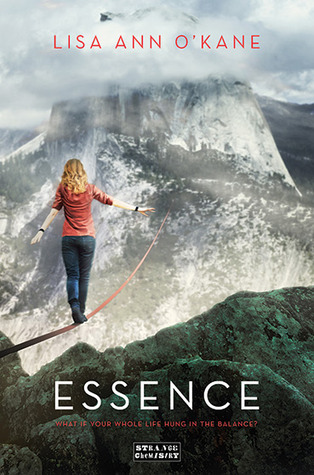 Autumn escaped a cult, but now she realizes she's fallen into another.
Growing up in San Francisco's Centrist Movement, sixteen year-old Autumn Grace has always believed emotions—adrenaline, endorphins, even happiness—drain your Essence and lead to an early death. But her younger brother's passing and a run-in with a group of Outsiders casts her faith into question.
Ryder Stone, the sexy, rebellious leader of the Outsiders, claims Essence drain is nothing more than a Centrist scare tactic -- and he can prove it.
Autumn follows Ryder to his Community of adrenaline junkies and free spirits in Yosemite National Park, and they introduce her to a life of adventure, romance, sex, drugs and freedom. But as she discovers dark secrets beneath the Community's perfect exterior, she realizes the more she risks in search of the perfect rush, the further she has to fall.
Hi everyone! Welcome to my tour stop for the Essence Tour hosted by Book Nerd Tours. Don't forget to check out the rest of the tour stops by clicking the banner up above. Alright, let's get started!
Autumn has been part of the San Franciso Centrist cult for her entire life. Born and raised, she was taught that she mustn't let things get out of hand for it would drain her Essence and lead to premature death. She witnesses this first hand when her younger brother Brody dies from choking on a piece of food given to him by someone from the outside world. The leader, Cedar, told everyone that Brody's action of disobedience to the rules of the Centrist movement caused a massive draining in his Essence which lead to his Death. Brody's death marks the beginning of Autumn's journey to discover that Essence isn't something that you should be afraid of losing because if you let your Essence out, you can discover so many more things in life.
Going into the book, I had already read a lot of bad reviews on Goodreads, so to be honest, I wasn't completely sure how I was going to feel. However, once I started reading, I found myself sucked into the story. The Centrist movement is so damn awful, it completely brainwashes its followers into believing that all types of fun equal death and it was so cool following the journey of a girl who breaks away from her cult to discover what the world had to offer.
Honestly though, this book maximized on drugs,
alcohol
, and sex. After all, isn't that how most people spend their times doing something fun? Part of me was a bit freaked out by that, but then I'm Asian and sheltered so it's expected. The other part of me actually enjoyed it because we got to see Autumn grow from being a sheltered person to quite the party animal...especially when moonshine is involved. The story while it is set in a dystopian society reflects the "joys of life" rather than the chaos that other dystopians highlight which I thought was pretty cool.
As for as romance goes I do not like Ryder. He is a big, fat playboy and honestly Autumn could have done so much better than him. Remember Javi? He's adorable, Ryder however acts like a jerk for a majority of the book. Why couldn't she see that? Her questionable judgement may not have been handy in terms of boy drama (at least in my opinion) but at the same time it made her more of a 3D character. She made a lot of mistakes and that just made her seem more human. Again, she was raised in a crazy cult so all the decisions that she made showed her growth as she advanced away from brainwash-ment...just made up a word right there.
Overall, after finishing the book, I felt as if there were so many unanswered questions. I heard/read that it was going to be turned into a series, but then it wasn't. I actually hope it will be because like I just said, there are so many questions and thoughts and theories that are 100% out in the open. How about a duology? :)
3 out of 5 stars
Foreverly Obsessed,