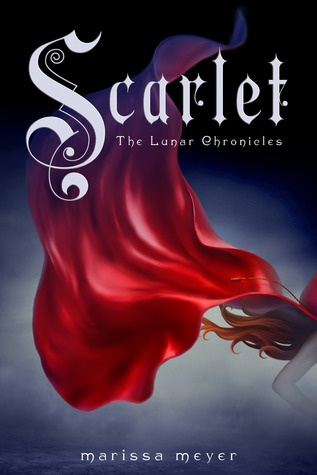 This is not the fairytale you remember.
But it's one you won't forget.
Scarlet Benoit's grandmother is missing. The police have closed her case. The only person Scarlet can turn to is Wolf, a street fighter she does not trust, but they are drawn to each other.
Meanwhile, in New Beijing, Cinder will become the Commonwealth's most wanted fugitive – when she breaks out of prison to stay one step ahead of vicious Queen Levana.
As Scarlet and Wolf expose one mystery, they encounter Cinder and a new one unravels. Together they must challenge the evil queen, who will stop at nothing to make Prince Kai her husband, her king, her prisoner . . .
Hey guys! It's been a while since I did a review on a book that isn't for tour. :) Without saying, I'm pretty excited to get started so let's go ~
Scarlet Benoit's grandmother disappeared and despite her constant pleas for the police to find her, they've closed the case. One day, Scarlet meets Wolf, a street fighter who is quite the shady character. He claims that he can help her find her grandmother and even though she doesn't want to trust me, she has no other choice. Meanwhile, Cinder escapes from prison with a said Captain Thorne and she is on the mission to find the woman who helped smuggle her from Queen Levana when she was a child. Her mission brings her to encounter Scarlet and before they know it, Queen Levana has unleashed her army on Earth.
I heard a lot of people say that they enjoyed Cinder more than Scarlet, so I will admit I was a bit skeptical to pick Scarlet up. I enjoyed Cinder but I didn't love it like everyone said, and I didn't want to end up disappointed with Scarlet. However, once I finished reading it, I was completely blown away. For me, I definitely enjoyed Scarlet more than Cinder. I felt Cinder focused a lot on the world building and the introduction of the evil that is Levana. While I loved Cinder, I didn't love Kai. Here, I loved Scarlet, and I liked Wolf a lot better than Kai...sorry Kai.
The attraction that Scarlet and Wolf feel towards each other seemed a bit fast. You could say that it was based either on Scarlet's desperation to find her grandmother or that they just insta-chemistry love. Either way, this book had a touch more romance and relationship building than Cinder did. Unlike Cinder, Scarlet grew up with someone who loved and supported her, so in some sense, she was a lot easier to relate with. Her relationship with Wolf starts off wary but quickly builds and grows into something delicate and beautiful. No matter how much you may hate Wolf for what he did (cough cough) you still love him in the end. Wolf was a lot more of a "fairy-tale" male character than Kai being that he did a lot more than Kai did in the first book. However, in Scarlet, Kai did sort of grow up and step more into his role as emperor. With Levana constantly breathing down his neck, we get to see Kai really step up his game so that definitely made me like his character more.
Overall, Scarlet was a lot more fast paced than Cinder and a lot of things were being revealed, secrets, mysteries, all of that. The story really sped up and developed, characters grew up, the inevitable was revealed, and overall I really enjoyed this book. I can't wait to get my hands on Cress and find out what's going on next! I hope Kai's okay...