ISBN:

0310735777


Pages: 304
Source: BookLooks
Appearance: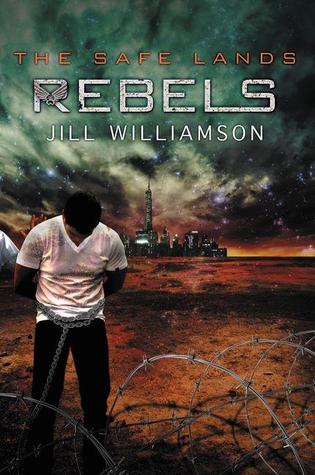 In this third book in the series of fantasy/dystopian novels from award-winning author Jill Williamson, three teens must try to hold on to their values amidst the subjugation and lies of the government.
In this final novel of the Safe Lands series by Jill Williamson, Mason and Omar discover the true meaning of Liberation-a secret the Safe Lands have long kept from their people-but find they are trapped in the low lands with this crucial information. Meanwhile, Levi is forced to turn his attention elsewhere when his new wife, Jemma, is captured and becomes the Safe Land's new queen. His only choice to save her may be to take up the role of undercover vigilante that Omar began, leading the rebels in their quest to overthrow the government. But will that be enough to expose the Safe Land's lies and bring freedom to the people? And will they even want it if it comes?
Hello everyone! A little bonus review for this week because I've had this book for long enough and haven't posted a review until now. I received Rebels by Jill Williamson from HarperCollins's BookLooks blogger program back in December and I had no idea until I received the book that it was the third and final book in a trilogy. Yup, I did not even Goodreads search it, I just requested it because the provided synopsis sounded really interesting...anyway, it took me a while to read the book, but I'm done and here are my thoughts:
Rebels follows three brothers, Mason, Omar, and Levi and their fight against the government of the Safe Lands. Levi has just witnessed his brothers receive Liberation and has no idea if they are even alive, but he has bigger problems on his hands - such as rescuing his wife who was just kidnapped and made the new Queen of the Safe Lands. In Liberation, Omar and Mason discover the meaning behind the program that liberates men and women above a certain age and criminals and it's not a happy picture. Luckily, they're not alone and have a group of rebels who are slowly growing stronger to fight against the system.
So I started Rebels back in December and I actually got through a good third of the book before I started struggling. The beginning of the story definitely engages the reader and does a pretty good job summarizing the events that happened at the end of the second book. As I did not read the first two books, I had a little bit a trouble connecting with the characters, but I found that action of the plot made it easier to read despite not really clicking with the characters. I think I had the biggest problem with the middle because it was all building up towards the action packed ending where everyone is reunited and the Safe Lands government is overthrown. I had settled into a rhythm in the first third of the book so I felt a bit slumped when the anticipation/plot building began in the second half. However, once I pushed through, the last part of the book flew by fairly quickly.
As far as characters go, I can't say I have a favorite brother, but my heart definitely reaches out towards Omar the most. He's got this spirit in him to fight back against the government while his own body is weak from dependency on a type of drug and sickness. Despite his physical weakness and his moments of hopelessness, he still manages to fire up the rebels with his rebellion image as the Owl. Mason is kind of the nerdy one there with his ability to create things that help with the rebellion. I personally think I like his relationship with his love interest the most just because the world is pretty much against them, but they're both willing to sacrifice so much for their cause. Lastly, there's Levi and he's this guy who was forced to grow up. I'm not sure about his exact age, but I keep making some of the girls older and then realize that they're 15-17. He's got a whole lot of weight on his shoulders, but you can tell that he's a natural leader and it's hard not to admire his resistance.
Overall, the story wasn't bad, it was actually pretty entertaining to read once I got over the hard parts, but that is all my fault as I didn't do my research ahead of time. I'm still debating if I want to go back and read the first two book, but if you have read the first two book, I definitely recommend it because the ending was pretty action packed and satisfying.