ISBN:

0373210493


Pages: 392
Source: Own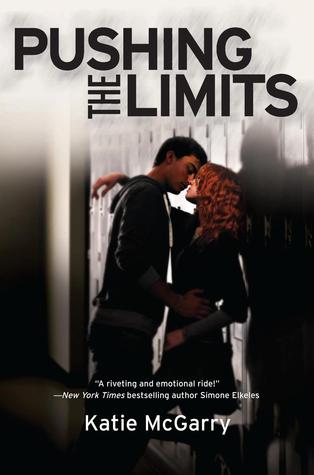 No one knows what happened the night Echo Emerson went from popular girl with jock boyfriend to gossiped-about outsider with "freaky" scars on her arms. Even Echo can't remember the whole truth of that horrible night. All she knows is that she wants everything to go back to normal.
But when Noah Hutchins, the smoking-hot, girl-using loner in the black leather jacket, explodes into her life with his tough attitude and surprising understanding, Echo's world shifts in ways she could never have imagined. They should have nothing in common. And with the secrets they both keep, being together is pretty much impossible.
Yet the crazy attraction between them refuses to go away. And Echo has to ask herself just how far they can push the limits and what she'll risk for the one guy who might teach her how to love again.
Hello everyone! I am actually reviewing all the books that I set out to review this week!
Okay enough celebration... So today I'm reviewing Pushing the Limits by Katie McGarry which, I would say, a pretty popular contemporary novel that I've heard lots of great things about. I was feeling a bit slump-y and haven't read a good contemporary in a while so I decided to pick it up and I literally finished it in >3 hours. Enough said, let's get into the review~
Echo Emerson can't remember anything the night her mother disappeared and she woke up with scars on her arm. One night changed her status from the popular girl with the hot boyfriend to an outcast. It's been a while and Echo is still attending therapy sessions that try to help her remember while suppressing the anger she feels towards her father and her pregnant stepmother and former nanny. Then she's asked to tutor bad boy Noah Hutchinson whose reputation exceeds him as a guy who uses girls and ditches the them the next day. While they are complete opposites, there's this undeniable attraction between the two and Noah seems to be the only one who doesn't judge Echo by the scars on her arm.
I have read so many reviews on Goodreads have been raving about how much this book made them cry that I went into this book extremely guarded. Thankfully, it didn't exactly rip out my heart and stomp on it, but it definitely has en extreme emotional appeal. The story alternates between Echo and Noah's POV which really helps to give the story a different perspective. I have no doubt that if I only read from Echo's POV, I probably wouldn't like Noah as much as I did. Reading from his perspective opened me up to his character and showed the person that was behind all the drugs, sex, and attitude.
Echo Emerson suffers from something akin to memory loss and wakes up an outcast with scars on her arm. All she wants is a little bit of normal and throughout the book, she struggles to find what her definition of normal is. Is normal the life she had with her friends and her jock boyfriend, when she was surrounded by popularity? Or is normal being who she is now, the girl with scars on her arms and a love for art. Through the process, she really grows before your eyes in confidence and personality. She learns to release the anger that has been bottled up inside her for so long and finally find normal.
When Noah Hutchinson was first introduced, he was just a douchebag. He emanated bad boy vibes and I expected to hate him. Like I said before, reading from his perspective completely changed that! You saw his wild persona as his shield to keep everyone out while the person he is behind that is someone completely different. He has two younger brothers and they were separated in the foster system and he'll do anything to get them back, because they're family. That alone should start to tug at your heartstrings. Then there are all the times where Echo's scars are exposed and everyone is frozen and he is the only one who reaches out and holds her hand with pride and love in his eyes. He may be a druggie, a douchebag, and moody, but he's got such a golden heart.
This book highlight again, the horrifyingly judgmental society that we live in. It was so sad to see friendships broken because one person craved popularity more than friendship and being scarred made one deformed and a freak. Luckily, there are still a couple good people in this world that will reach out in dark times to support anyone who has fallen.
Overall the story was really enjoyable. I didn't have any heart-wrenching moments, but still really liked the read. I will definitely be picking up the next book because I CAN'T WAIT to read Beth's story, especially after getting to know her a bit in this story.