ISBN:

0802736165


Pages: 345
Source: Library
Publication Date: May 18, 2015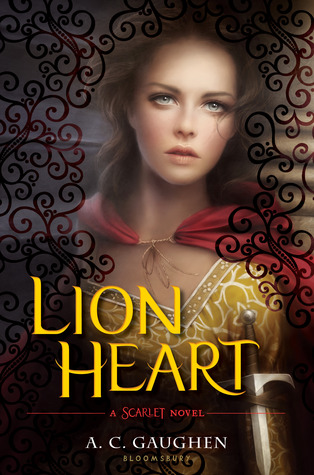 The eagerly-awaited conclusion to the Scarlet trilogy delivers another action-packed and romance-filled adventure.
Scarlet has captured the hearts of readers as well as the heart of Robin Hood, and after ceaseless obstacles and countless threats, readers will finally find out the fate of the Lady Thief.
Imprisoned by Prince John for months, Scarlet finds herself a long way from Nottinghamshire. After a daring escape from the Prince's clutches, she learns that King Richard's life is in jeopardy, and Eleanor of Aquitaine demands a service Scarlet can't refuse: spy for her and help bring Richard home safe. But fate—and her heart—won't allow her to stay away from Nottinghamshire for long, and together, Scarlet and Rob must stop Prince John from going through with his dark plans for England. They can not rest until he's stopped, but will their love be enough to save them once and for all?
Hello everyone! Welcome back to another review! I have waited so long for this conclusion because I loved
Scarlet
and
Lady Thief
so much and when this book came out I immediately went to my library to pick it up. However, for some strange reason, my library didn't have a copy so I decided to wait. Fast forward six months and I got impatient so I went to another library to pick up a copy.
This is the third and final book to the Scarlet trilogy which is a retelling of the adventures of Robin Hood for Scarlet's perspective. I got through maybe 16% of the book and I was already jumping around with excitement just to be in the world and with the characters again. There are so many twists and revelations in this past two books and I was honestly so scared as to what is going to happen to the characters. Each characters has been through so much and matured which happens when you see your loved ones die and you're pursued by a tyrant. At the end of the trilogy, I'm just so happy for all of them.
Scarlet has had so many curveballs thrown in her direction I'm surprised she's still sane/ By this books, she's grown so much and that is definitely reflected in how she acts in certain situations. Nonetheless, she and Robin have this amazing romantic relationship that just proves how people are when they are in love. Robin is everything. His good character just shines through in everything that he does and he still manages to smile and encourage people after everything that has happened. Despite all his feelings of unworthiness, he will be an amazing Earl and I'm so happy for him. This book just makes me happy.
The ending kind of disappointed me. Don't get me wrong, I still enjoyed the action scenes (honestly John you are insane), but the final ending scene lacked that punch that I wanted. I don't want to spoil anything but let's just say there was a certain someone I was hoping to see before the book ended and it didn't happen. The final lines were just so cheesy and unsatisfying that it left me hanging. I still enjoyed the book and I'm sad to see the characters go, but I didn't get that final punch.
4 out of 5 stars
Foreverly Obsessed,