ISBN:

1633751279


Pages: 219
Source: Entangled Publishing
Publication Date: December 1, 2015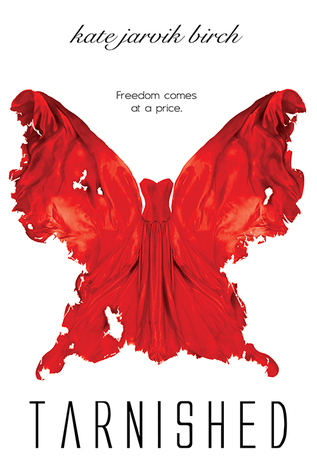 Freedom comes at a cost...
Ella was genetically engineered to be the perfect pet—graceful, demure...and kept. In a daring move, she escaped her captivity and took refuge in Canada. But while she can think and act as she pleases, the life of a liberated pet is just as confining as the Congressman's gilded cage. Her escape triggered a backlash, and now no one's safe, least
of all the other pets. But she's trapped, unable to get back
to Penn—the boy she loves—or help the girls who need her.
Back in the United States, pets are turning up dead. With help from a very unexpected source, Ella slips deep into the dangerous black market, posing as a tarnished pet available to buy or sell. If she's lucky, she'll be able to rescue Penn and expose the truth about the breeding program. If she fails, Ella will pay not only with her life, but the lives
of everyone she's tried to save...
Hello everyone! Welcome back to my review of Tarnished by Kate Jarvik Birch. This is the second book in the Perfected series and you can check out my
review of the first book HERE
if you haven't read it yet.
Perfected ended with a cliffhanger that took away my ability to breathe and my heart in a hundred little pieces. I'm not a huge dystopian reader as the worlds never capture my attention long enough. When I first read Perfected, I was blown away by how freaky the world is. It's pretty much identical to our world but science and technology has advanced to the point where they can genetically create humans to be pets under the guise that since they are genetically created, they're not human. While it's not exactly the typical dystopian setting, it's definitely reminiscent of one.
Moving on to Tarnished, I can't tell you how excited I was when I first saw that cover. It's absolutely beautiful and fits the idea behind the book perfectly. Tarnished picks up a couple weeks after Perfected ends with Ella and Penn separated by the Canadian/US border. Ella is at a facility center for pets that have escaped and she can't stop thinking about Penn. When she sees him on the television, a robot compared to the person she fell in love with, she decides to go back to the states to save him from his father. On the way, she runs into Missy and with her help, makes it pass the border.
Ella got on my nerves a bit at the beginning. Reckon, it's been a while since I read the first book but I remember her being very naive and innocent, but she had a hidden fire. At the start of the book, she seemed like she was caught up in this whirlwind of emotions that focused solely on Penn. For lack of a better description, she didn't care about what happened around her as long as she got to Penn. That bugged me because it made her character seem weaker, but thankfully after she was reunited with him, she pulled herself together and became a stronger character.
I can't remember my thoughts on Missy but this book made me love her so much. She's got this super fierce exterior but there are these hidden moments where you just see her vulnerability and it makes me want to hug her. I'm so scared for what will happen next for her, but the ending gives me a bit of reassurance, though I could use more.
This novel delves more into NuPet as a corporation and explores the true evil behind what the company is doing to the pets. I "loved" the gruesome revelations, because they revealed so many secrets and helped to move the story along. The CEOs of NuPet and the senator are huge SOBs and I literally can't wait for their downfall in the later books.
It took me a while to get back into the story, but once things started picking up, I became addicted. I definitely can't wait for the next book and see things wrapped up and thank the heavens this ending wasn't as heartbreaking as the first one or I don't know how I would have survived.
*I received a copy from Entangled Publishing for review. All opinions are 100% my own.*
4 out of 5 stars
Foreverly Obsessed,