ISBN:

0804137250


Pages: 349
Source: Blogging for Books
Publication Date: July 14, 2015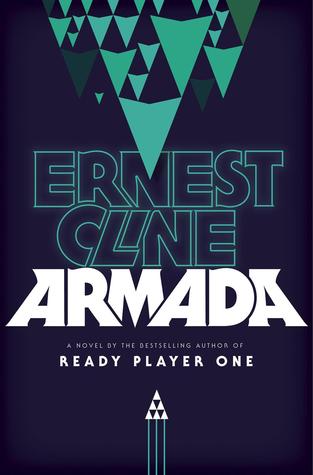 Zack Lightman has spent his life dreaming. Dreaming that the real world could be a little more like the countless science-fiction books, movies, and videogames he's spent his life consuming. Dreaming that one day, some fantastic, world-altering event will shatter the monotony of his humdrum existence and whisk him off on some grand space-faring adventure.
But hey, there's nothing wrong with a little escapism, right? After all, Zack tells himself, he knows the difference between fantasy and reality. He knows that here in the real world, aimless teenage gamers with anger issues don't get chosen to save the universe.
And then he sees the flying saucer.
Even stranger, the alien ship he's staring at is straight out of the videogame he plays every night, a hugely popular online flight simulator called Armada—in which gamers just happen to be protecting the earth from alien invaders.
No, Zack hasn't lost his mind. As impossible as it seems, what he's seeing is all too real. And his skills—as well as those of millions of gamers across the world—are going to be needed to save the earth from what's about to befall it.
It's Zack's chance, at last, to play the hero. But even through the terror and exhilaration, he can't help thinking back to all those science-fiction stories he grew up with, and wondering: Doesn't something about this scenario seem a little…familiar?
At once gleefully embracing and brilliantly subverting science-fiction conventions as only Ernest Cline could, Armada is a rollicking, surprising thriller, a classic coming of age adventure, and an alien invasion tale like nothing you've ever read before—one whose every page is infused with the pop-culture savvy that has helped make Ready Player One a phenomenon.
Hello everyone! So today I have my long awaited review for Armada by Ernest Cline. I received this book back in August for review and it's taken me forever to finish it. So without taking too long to intro this post, let's get into the review~
I will be completely honest and say that Armada was a struggle to read. The hype surround the book and the anticipation that it was going to blow my mind like Ready Player One did gave it big shoes to fill. Unfortunately, it didn't meet my expectations. The storyline was just so game focused with little logical explanation that I found myself confused a lot of the times. The characters, regardless of age, seemed to understand these obscure references from the 80s and 90s, but these references weren't explained for those of us who didn't get them.
The plot, I heard, is similar to Ender's Game which I haven't read, but apparently it follows a similar path of the government recruiting gamers of all ages to fight against the enemy. The backstory of Armada had a lot of gaming backstory and told in these large sections which made it confusing for non-gamers to really grasp what was going on. Personally, I felt like Armada lacked the punch that Ready Player One had. While both books deal with gaming and have gaming references, Armada didn't have the same explanation.

Zach as a character...I can't really describe him. I didn't love him and had a hard time connecting with his situation. He wasn't terrible by any means, but I feel like gamers would understand his plight better and his life in the story seemed like every teen gamer's dream: save the world and get the girl.
Armada was just difficult for me to get through. I started reading it in August and read chunks for the next five months. It's only due to winter break and my guilt that I haven't put up a review for this book yet, that finally allowed me to finish the last hundred pages. The story was mildly entertaining, but it didn't live up to the expectations I had after reading Ready Player One. The story is much more targeted towards a gaming audience which is unfortunate for me, but it means a lot of other people out there will enjoy it.
*Huge thanks to Blogging for Books for providing a copy to review. All thoughts are 100% my own*
3 out of 5 stars
Foreverly Obsessed,