The Princess of Egypt Must Die by Stephanie Dray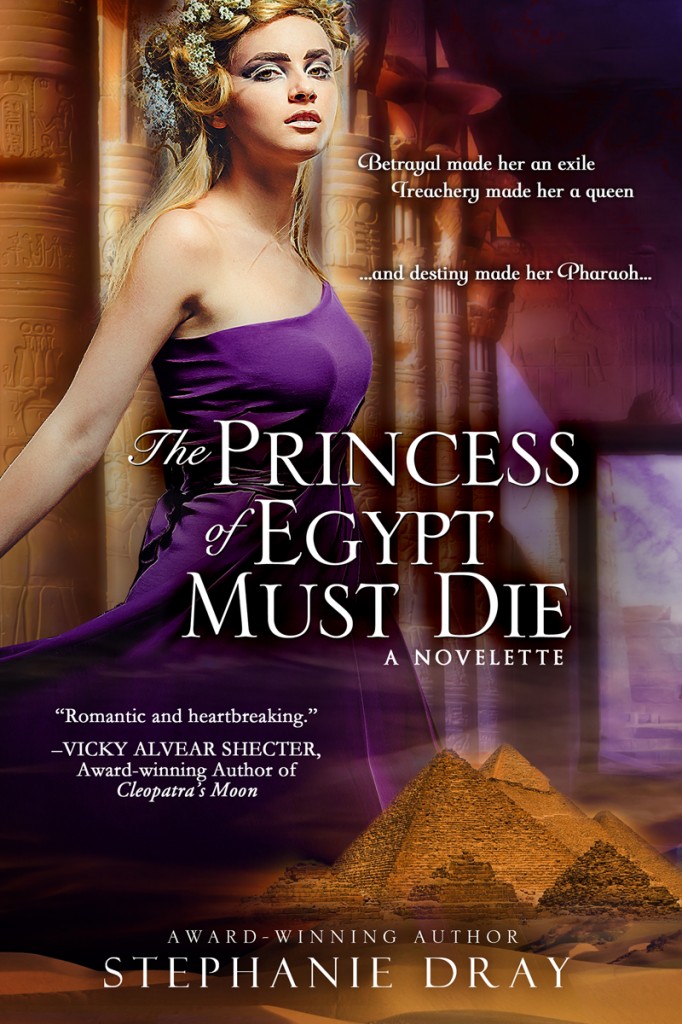 Princess Arsinoe came of age in the glittering court of Ptolemaic Egypt. Abused by her ruthless sister, a pawn in the dynastic ambitions of her father, and dismissed by the king who claimed her for a bride, young Arsinoe finds herself falling in love with a young man forbidden to her. She dreams of a destiny as Egypt's queen, but first she must survive the nest of vipers otherwise known as her family.
Hey guys! I believe this is my first novelette/short story review of 2014! Actually, it's the first review of 2014! Whoo! I've read the first book of Stephanie Dray's The Nile Series: Lily of the Nile which was an amazing book that really sparked my interest in Egyptian history. I was scouting Amazon for some fun reads when I came across this novelette. The title itself sounds really interesting, after all, it's saying that the Princess MUST die. Second, the cover looks absolutely stunning which is another bonus although we should never judge a book by its cover right? Last, it's free! Yes it is, like all my Amazon book reviews so after reading if you're interested, just go ahead and click the cover. Enough said, let's get into the review!
This story, which heads up, I'm shortening to TPOEMD because it's easier for reference, focuses a lot on the character growth of Princess Arsinoe. At the beginning, she was this soft-hearted kind girl who was viewed as "weak" by her mother and those at the Egyptian court. When she was arranged to marry the King of Thrace, she meets his illegitimate son, Cassander, and he becomes one of her close friends in her new home. At Thrace, she meets her other stepson Prince Agathocles who tries to make a move on her almost immediately. Due to her soft nature, she struggles to find her place at court and in her new family. She connects with her step daughter who insists on being called Bunny as a way of forming one of her first close female relationship.
Now what's a good historical fiction story without some court scandal? Remember Cassander, well there's a little romance around him and Arsinoe. Arsinoe stubbornly refuses to admit her feelings and tries to keep away. Cassander is a stable boy, she is the Queen of Thrace, it's no hope. Yet we all know that love is not one to be slighted with. She eventually gives in and meets him, only to be betrayed by the ones who called themselves her friends.
To prevent any spoilers from getting out there, Arsinoe learns that court and the royalty is no place for a love, kindness, trust, or any of those "good" virtues to exist. Everyone is thieving, cynical, sly, and out to get their own. The ending exemplifies her growth from a girl to a woman. It depicts her determination to no longer be trampled upon by other and to become Queen of Egypt one day. In short, the person who she was, a princess of Egypt, died with....not finishing that sentence.
Of course I couldn't be left with that information only. With the wonderful help of Wikipedia, I found out that Arsinoe did indeed become Queen of Egypt through a joint marriage with her brother. After her first husband died, she married her paternal half brother, but the marriage didn't end so well. She fled to Egypt where she married her brother (full blood relation) and became Queen of Egypt. She was influential and made an impact on Egyptian culture and society.
Here's the link if you're interested.
So that's it for my review. Definitely a great start to the New Year I think. Yay! Let me know what you think down below and if you haven't checked out Stephanie Dray's other books, you should check them out ASAP! They're good! Well...
Lily of the Nile
was AMAZING and I expect nothing less from
Song of the Nile
.
Foreverly Obsessed,
Riv