ISBN:

0692299475
Pages: 333
Source: YA Bound Book Tours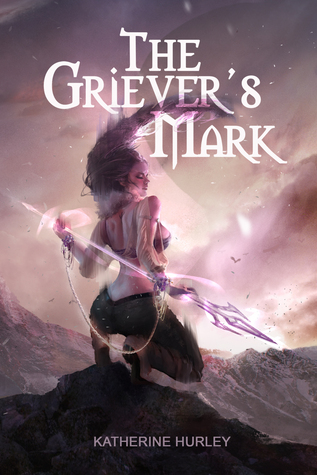 Astarti's master controls her through a Leash, a bond of energy anchored deep within her. Despite being one of the few remaining Drifters, able to manipulate the energy world, she cannot break free. She knows her fate: she will serve until she dies, at which point her master will harvest her energy to augment his own.
Oh, yes, she's done some bad things in her master's name. She's not asking for forgiveness. She expects you to hate her.
What she doesn't expect is Logan, a man meant to be her sworn enemy. A man with secrets as dark as her own.
Helly everyone and welcome to my tour stop for the Griever's Mark by Katherine Hurley. This is the first book in a new YA fantasy series with the second book coming out on April 28th this year! As always, please click on the tour banner above to be linked to the tour page where you can check out all the other amazing stops! :)
Astarti is Leashed to the one they call the Unnamed, a former Earthmaker turned Drifter and one of the most powerful men in the entire world. She is on a mission to recruit a rebel leader for her master and if she fails it will be on her. When the leader escapes her grasps and she is forced to face her master's wrath, Astarti finds an unexpected ally in an Earthmaker named Logan who saves her from being beaten. Logan doesn't know why he saved the Drifter but he knows that she is different than those who serve the Unnamed. For one, she was leashed against her will when she was a child. For another, she saved his life.
The world that this story takes place in is really fascinating and it definitely shows in the writing. Katherine Hurley spends a lot of time building the world and describing the workings of the Drift and the Current which are separate dimension wave-like things that only Drifters and Earthmakers can travel through. Drifters travel through the Drift and Earthmakers travel through the Current. The Drift also has the ability to transport weapons so Drifters can travel light. Convenient right? The author also spends a lot of time creating the haven of the Earthmakers and as their name implies, it's kind of a big nature wonderland.
As far as characters go, Astarti wasn't bad. She is kind of an evil turned good character, but I suspect she was always good. Even though in the the summary/blurb she expects you to hate her, you end up rooting for her pretty easily. She's a very strong character in that she can kick butt anytime, but she's also scared. After being Leashed for so long and obeying her master's will for her entire life, she's terrified of going against him, but she still does it. That should at least give you a sliver of respect for her. What she does in this book, how she constantly combats her fears for the sake of other people, really gets you thinking highly of her.
Of course there's a love interest and I must say I'm definitely rooting for this couple. Logan is an Earthmaker (of sorts) and relationships between Drifters and Earthmakers are extremely forbidden. Logan's not going to let that stand in his way and when he rescues Astarti from her master's rage, he brings her to the heart of Earthmaker society which is also extremely forbidden. There he defends her, goes against his brother's wishes to protect, and all in all makes her feel like she's special, wanted, and powerful. Who doesn't like a guy to make them feel that way?
While I did enjoy the story, that ending could not have hit me harder. Don't get me wrong, but I feel like so many books that end with some sort of cliffhanger always end in similar ways. The main character is determined to make someone pay, or he/she makes some life changing discovery. Honestly, I was kind of annoyed when the ending rolled around, but I guess it's for the sake of continuing on with the story. Another thing that was left unfinished was the explanation of Astarti's Griever's Mark. I mean the book is titled that, so maybe I just missed it. What I gathered was that Astarti's father did it to mark her and she's spent her entire life hiding so it must mean it's a bad thing right? I caught something about death, but other than that it wasn't explained much...
Overall, definitely a great start to a new fantasy series. I'm kind of excited to see what the next book brings since the first one ended a bit abruptly so I guess it's good that I don't have to wait too long. Let me know if you pick this one up and what your thoughts were!
I'm Katherine Hurley, author of The Griever's Mark series. Book 1 will be out in November 2014 and Book 2 in spring of 2015.
My love of myth and legend led me inexorably into fantasy, and I have no intention of leaving. Ever. I grew up riding horses and finally, finally, finally have one of my very own. (I'm hoping Astarti will get some quality horse time at some point, but Drifters don't really need horses. Hmm.) I'm also an avid (but amateur!) mountain biker and whitewater kayaker.
I was born in New Mexico, grew up in Kansas, got my MFA in Michigan, and now live in West Virginia. The most beautiful place I've ever been is New Zealand.