ISBN:

1494723352
Pages: 254
Source: Xpresso Book Tours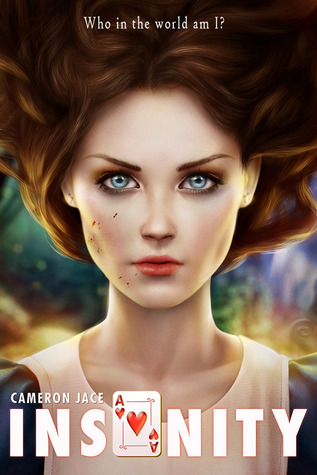 After accidentally killing everyone in her class, Alice Wonder is now a patient in the Radcliffe Lunatic Asylum. No one doubts her insanity. Only a hookah-smoking professor believes otherwise; that he can prove her sanity by decoding Lewis Carroll's paintings, photographs, and find Wonderland's real whereabouts. Professor Caterpillar persuades the asylum that Alice can save lives and catch the wonderland monsters now reincarnated in modern day criminals. In order to do so, Alice leads a double life: an Oxford university student by day, a mad girl in an asylum by night. The line between sanity and insanity thins when she meets Jack Diamond, an arrogant college student who believes that nonsense is an actual science.
Hello everyone! Welcome back to another review, today I have my review for Insanity by Cameron Jace. I have not read a ton of Alice in Wonderland retellings but this is the BEST one I've read so far. It literally makes you go mad because everything is so wonderfully twisted and messed up and it's glorious!
Alice Wonder is known as the girl who killed everyone in grade which landed her in a mental hospital. She has no memories of how she killed them and has been enduring the jeers and shock therapy the wardens have thrown her way. Then she's summoned by the craziest of all who dwell in the hospital - former professor turned serial killer, the Pillar. The Pillar tells Alice that he is one of the many Wonderland monsters that have escaped their prisons and are now wrecking havoc on the world. Fortunately, Alice can stop them because she's the real Alice. Alice thinks he's crazy, but finds herself consumed in a whirlwind of madness. Through the insanity, Alice has to find a way to save a little girl from the
Cheshire
Cat before he wrecks havoc on the entire world.
I will say that summary is not my best, but it was so hard to form a summary that made sense to do this book justice. So the story's main antagonist is the Cheshire Cat who has been running around England and killing off girls, each bearing his signature mark of a big Cheshire smile. The book actually starts in his point of view and my mind was literally spinning with "what the hell just happened?" Within the short span of a couple of pages, Cameron Jace had successfully captured my attention and thoroughly creeped me out. The writing is so haunting and beautiful and the imagination is above the world.
Alice Wonder is not someone who I imagined to be the Alice from the Lewis Carroll novel. She's super against being that Alice and spends a good majority of the book fighting that identity label. However, once she embraced the madness of Wonderland you find that she really fits in with all the Wonderland characters. Her compassion and sympathy for Constance, the girl the Cheshire kidnaps, let you see a more vulnerable side to her. Since she can't remember who her boyfriend, her friends, or anybody on the bus the day she killed everyone, she feels responsible in making sure that Constance doesn't share the same fate.
I honestly don't know how to even being explaining the Pillar. He's infuriating with his constant riddles, but he proves to be a very important mentor for Alice. There are also so many lines throughout that book that just make me crack up because even in the most dire of situations, he's being mad. He is the best definition for mad in the sense of embracing all the craziness in the world. The Cheshire Cat creeps me out, but his story tugs on my heartstrings as well. He's like the feline version of Alice, a regular cat who tumbled into the world of Wonderland. His hatred for the human world is so raw and emotional it fuels the story along.
I want to quickly mention one character because he made me laugh the most and that is Jack Diamond. That revelation at the end of the novel completely blew my mind and my mind is still reeling from it. I don't want to say anything but as of right now Jack Diamond is definitely my favorite character so far. There are a bunch of other characters such as the Duchess and the White Queen who play important roles in the story, but while they were important they haven't made a big impact on me.
Overall, this book is wonderfully insane and I definitely recommend it! I can't wait to pick up the next book in the series and hopefully start Cameron Jace's Grimm Diaries soon!