Hello everyone! Welcome to Day 4 of 12 Days of Christmas! Sorry I'm a bit late today, I had to finish an essay yesterday and didn't get to writing the post. Anyway, the daily reminder: If you haven't entered the giveaway yet, you can do so here!! Finally, getting to today's post, I'm finally going to write my His Fair Assassin Books 1 & 2 Reviews up! I still need to get my hands on the third and final book, but the reviews of the first two books are definitely long overdue!
ISBN:

054762834X


Pages: 549
Source: Library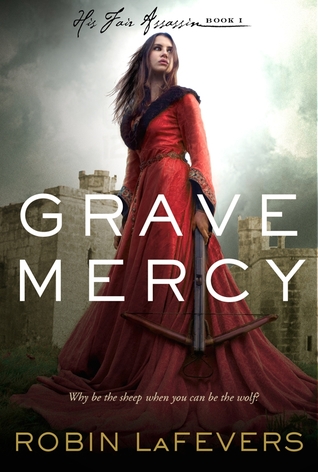 Why be the sheep, when you can be the wolf?
Seventeen-year-old Ismae escapes from the brutality of an arranged marriage into the sanctuary of the convent of St. Mortain, where the sisters still serve the gods of old. Here she learns that the god of Death Himself has blessed her with dangerous gifts—and a violent destiny. If she chooses to stay at the convent, she will be trained as an assassin and serve as a handmaiden to Death. To claim her new life, she must destroy the lives of others.
Ismae's most important assignment takes her straight into the high court of Brittany—where she finds herself woefully under prepared—not only for the deadly games of intrigue and treason, but for the impossible choices she must make. For how can she deliver Death's vengeance upon a target who, against her will, has stolen her heart?
Grave Mercy completely blew my mind. I wasn't even sure what my expectations were for this book but they were thrown out the window really quick. The book is full of political intrigue and the workings of court. Our main character has had a rough start on life, but when St. Mortain welcomes her into their world, she doesn't step away from the dangers. I really enjoyed watching Isame grow from a nobody to someone powerful and strong. I mean, she's immune to poisons which I think is really freaking cool! The whole concept of St. Mortain's handmaidens of death is really interesting. For those who don't know what that is, a handmaiden of death is a girl who has been blessed by St. Mortmain aka Death with special abilities that will allow her to carry out the instructions of Death. It's a dangerous job, but it's so cool! That sounds horribly morbid, I apologize, but kickbutt female assassins gifted by the god of Death? You have to admit that sounds cool. I think Robin LaFevers did a really amazing job weaving historical events with her own fantastical ones. I did have one problem and that was the sort of romance that was going on. I liked that the main focus was the political issues, but how the two people in questions got from Point A to Point B was a bit of a jump. Maybe that's just me because I was too caught up with the political intrigue, but the romance was not the best. Overall, this made me miss historical fiction so much, speaking of, I need to read more historical fiction~
Quick PSA: If you haven't read Book 1, there might be mild spoilers, but I'll try to keep everything spoiler free.
ISBN:

0547628382


Pages: 385
Source: Library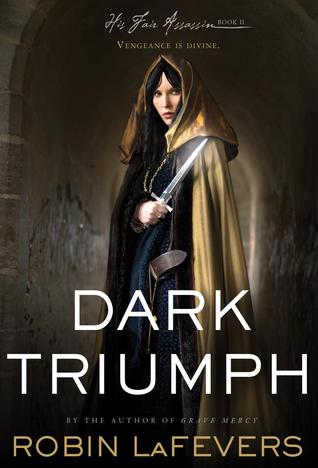 When Sybella arrived at the doorstep of St Mortain half mad with grief and despair the convent were only too happy to offer her refuge - but at a price. The sisters of this convent serve Death, and with Sybella naturally skilled in both the arts of death and seduction, she could become one of their most dangerous weapons.
But her assassin's skills are little comfort when the convent returns her to the life that nearly drove her mad. Her father's rage and brutality are terrifying, and her brother's love is equally monstrous. But when Sybella discovers an unexpected ally she discovers that a daughter of Death may find something other than vengeance to live for...
So much has happened since Sybella ran away from home and every second was glorious. Now she's returning to Hell armed with the power of St. Mortain and the mission she's been waiting for: kill her father. Yet, wherever she looks, she can't find the death symbol from Mortain anywhere on her father. Without the sign, she can't kill him. While Grave Mercy focused more on the political intrigue and I swear a lot of stuff happens, Dark Triumph focuses more on family issues. Spoiler alert!! Sybella's father is one of the big guys behind the whole "Conquer Brittany from the Duchess" operation so you can imagine Sybella's glee to be able to rid two terrors with one go. If only she had Mortain's permission. As a character, I definitely like Sybella more. When she was introduced in Grave Mercy, she's this crazy girl who probably should be in an asylum. I liked the little relationship she formed with Isame before Isame leaves and when I found out she's the heroine of this book I was really excited. So much more about Sybella is revealed and I admire her strength so much after reading about what's the gone through. Seeing her grow throughout the book was amazing and it's quick to say I'd be so excited if I got to meet her in real life. She's kickbutt and strong which I've said a million times but I can't say it enough. I'm really sad that it was so short, but it had everything I wanted in the sequel. I can't wait to get my hands on the third and final book, it's going to be so amazing!
Grave Mercy: 4 out of 5 stars
Dark Triumph: 4 out of 5 stars