ISBN:

0316043915


Pages: 427
Source: Library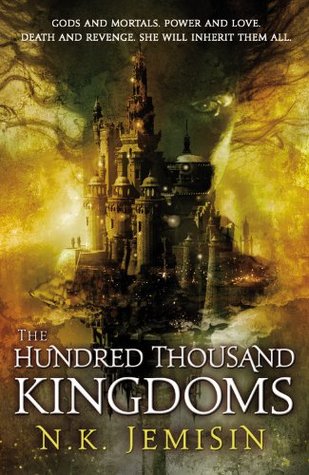 Yeine Darr is an outcast from the barbarian north. But when her mother dies under mysterious circumstances, she is summoned to the majestic city of Sky. There, to her shock, Yeine is named an heiress to the king. But the throne of the Hundred Thousand Kingdoms is not easily won, and Yeine is thrust into a vicious power struggle.
Hello everyone! Welcome to the third day of the 12 Days of Christmas! Be prepared, as this is the first of many reviews you guys will be getting during this time. Quick reminder, if you haven't joined the giveaways you can join them
here
. Without further ado, let's get into the review!
Yeine Darr is summoned by her grandfather, the king of the Hundred Thousand Kingdoms after the death of her mother. Though she does not dare voice it, she's certain he plays a part in her mother's death. Upon entering the grand city of Sky, Yeine finds herself named an heiress to the king, but she's not the only one. Her cousins are also in the fight for the throne and Yeine is thrust into a vicious battle for power and ultimately her life.
The Hundred Thousand Kingdoms is a wonderfully written epic fantasy where the gods serve the mortals instead of the other way around. That thought alone kind of blew my mind. There is a lot of history that goes into creating the world and there are a couple flashbacks from present day to the time when the gods fought for power before Itempas aka the Bright Father took control. It does get a bit confusing because one minute you're with Yeine and the next you are standing in a battle field watching the gods and their children fight each other. It's a crazy hectic world. In addition to the world building, NK Jemisin is amazing at connecting with the reader. There are lines in the book where Yeine stops and goes "Oh I went to far, let me explain," which makes the reader part of the story. It's almost like Yeine is telling the tale to you which I thought was really cool. The book itself was a bit dry at parts, but the intrigue kept me turning the pages so it worked out in the end.
Yeine as a character was strong, but I'll admit a little bit naive. She's a super complex character, but again all the characters so super complex. Her naivety didn't bother me much because it allowed me to see Yeine combat everything court life throws at her and she did pretty well for someone considered a "barbarian of the North." The one thing that bothered me the most was the romance if there was any romance at all. The relationship between Nahadoth, the god of darkness/destruction with Yeine was awkward and let me repeat: Awkward. He could kill her if he wanted to, she's warned away from him because he's a god and technically a slave, yet there are feelings? To throw one major plot twist in the mix which I won't mention because spoilers and it's just one messy relationship. The ending however, that was adorable.
My favorite character is definitely Sieh. He's the god of tricksters and he's freaking adorable. He has the brain of an aged wise man, but the physical appearance of a boy. He says something deep and philosophical one minute and the next he's snuggling up to Yeine like a little kid. He loves and hates like a child and at the end, no matter how old he actually is, he captures your heart with his childlike personality.
I have to applaud Jemisin for her plot twists because there were a couple in this book that I didn't even consider. Each one sets a new pace for the book as Yeine continues to navigate the treacherous world of court politics. There are some things I felt went unresolved like the truth of Yeine's mother. I feel like we all just drew the conclusion that Dekarta killed her, but it's still open to debate.
The ending however was epic. It had a really brilliant scene with light and gods and reincarnation. It was awesome! I'm really excited to pick up the next book in the series to discover what happens next, but I'll admit I'm a bit bummed that we're following a different character's journey.
There's truth even in tainted knowledge, if one reads carefully.
...and when I lift my head to scream out my fury, a million stars turn black and die. No one can see them, but they are my tears.
Determination could easily become obsession.
In a child's eyes, a mother is a goddess. She can be glorious or terrible, benevolent or filled with wrath, but she commands love either way