Hey everyone! Welcome to a little review mash-up. I decided to to my little intro up here so that it doesn't get confusing between the reviews. I received both books from YA Bound Tours a while ago and I thought I should probably get the review out because it's a bit late. >.< (Sorry.) So yeah, hope you guys enjoy~
Carnelian by B. Kristin McMichael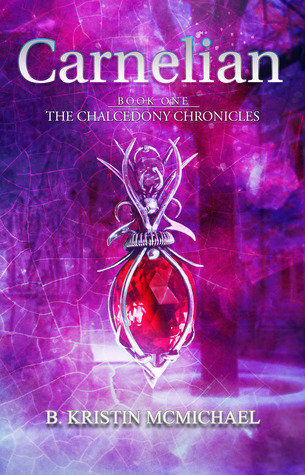 Everyone has a past, but for most it isn't as long ago as Seth Sangre. His past is literally thousands of years ago. Seth's life led him to the present seeking something that might help him save his country from destruction. He has been in the present for over three years now and just found exactly what he has been looking for.
Mari had dreams that college will be a fresh start, one where she would start over and not fall for the good looking player like high school. Unfortunately for her, that's exactly what ends up falling into her lap on the first day she moves into the dorms. Now she has to hold to her promise to herself and not fall for the handsome Seth. But he doesn't plan to make it easy for her. Seth has already marked her as his next conquest. As the semester progresses, Mari learns that Seth might just have a life of his own that's actually from the past. Suddenly Mari finds her future along with her past put into question. She's connected to Seth far more than she ever wanted to be and maybe the player isn't who she thought he was. If Mari can trust her heart enough to follow him, Seth will lead Mari on an adventure of a lifetime and reveal family secrets she never knew existed
Okay, so this book was a bit hard to get through. To be honest, I barely finished it. I received this book back in April I believe and it took me this long to finally get to the end. I liked the idea of the story, the time travel, the war back home, but the characters, I didn't love. Mari was a very concentrated character, she focused on one thing and that thing was Seth. A guy she literally runs into on her first day of college and ever since then, she's pretty much infatuated. From there on, she took in everything really surprisingly well. The fact that her parents might not be her parents didn't bother her as much as I thought. She also didn't really seem bothered by time travel or the war that was happening in the other era. All she really cared about was Seth. Seth and how cute he was. Many people know that I have a major problem with insta-love, it's one of my biggest pet peeves. And guess what, the romance in this book was insta-love. Seth even said it himself. The two MCs were just so infuriating and obsessed with each other that my head could not handle them. Another thing, Mari was very confusing in what she sad. I quote "I hated that I liked him. He was just going to break my heart. Maybe he already had." Um, Mari? I would hope that you would know if a guy broke your heart, like I'm sure it'd hurt. Other than that, I loved Seth's brothers, especially Ty. He's like the bestest friend ever in the history of amazing friends. I was so sad that there was no love interest for him because he was just so sweet and kind. Okay, enough ranting. My biggest problem was definitely the MCs, but overall the idea of the story was interesting and I liked the time travel aspect. :)
3 out of 5 stars
Trapped in a dark cult, sixteen-year-old Naomi Aren has lived a quiet, albeit unhappy, life nestled deep in the hills of the Ozarks. With uncut hair, denim skirts, and only roses for friends, Naomi seldom questions why her life is different from other kids at school. Until the day her abusive father, who is also the cult's leader, announces her wedding. Naomi must marry Dwayne Yerdin, a bully who reeks of sweat and manure and is the only one person who scares her worse than her father.
Then she meets Kai, the mysterious boy who brings her exotic new roses and stolen midnight kisses. Kisses that bring her a supernatural strength she never knew she had. As the big day approaches, Naomi unearths more secrets of about her father's cult. She learns she has power of her own and while Kai may have awakened that power, Naomi must find a way to use it to escape Dwayne and her father—without destroying herself.
Naomi and her family are part of a cult, a dark one that involves brutal abuse for sins and extreme discipline. Apart from her roses, Naomi has no other friends until she meets a new girl named Ruth. Right about then, she also finds out that her father has arranged for her to marry Dwyane, a disgusting douchbag who smells like sweet manure. Also around that time, she meets Kai, who brings her new roses and kisses. When her parents are thrown into jail for murder, she's brought to live with Dwyane and his father, but manages to escape to her aunt in Las Vegas. There she discovers a whole new dimension, where Destroyers and Guardians fight for humanity.
That's kind of my little summary of the story. Please excuse this next line: NAOMI WHY!?!?! *runs off sobbing* Okay, back to business. I have extremely conflicted feeling about the end of this book and as of now, I'm still pretty distraught. But the reason behind that is a bit spoiler-y so we're not going to discuss it. I really enjoyed this book. Naomi was really easy to connect to, I felt her feelings, her love for roses, her passion for them. We also got to see her grow from a broken girl into a confident young lady who knew how to stand up for herself. The "war" between the Destroyers and the Guardians caught my attention and completely pulled me in. I love Alejandro, he was so entertaining and such an amazing figure in Naomi's life. Puck was absolutely stunning, I'm team Puck all the way. Kai on the other hand we didn't get to know as much and well, I like Puck better that's all I have to say. The revelation of the Master Destroyer actually didn't surprise as much. The anticipation of how Kimberly Loth wrote the climax had me freaking out, but when the Master Destroyer was revealed, I wasn't that shocked even though I didn't know what was coming. The kisses thing probably disturbed me the most. Guardians like Kai have this ability to kiss someone and send them into an induced sleep or make them completely infatuated with them. A little creepy especially concerning Naomi, but an interesting concept, I guess. Overall, I would recommend it, it was pretty fun and let's say I have a brand new appreciation for roses. :)
3.5 out of 5 stars
Foreverly Obsessed,