ASIN (Camp Boyfriend):

B00DQZ2L7G
Pages (Camp Boyfriend): 334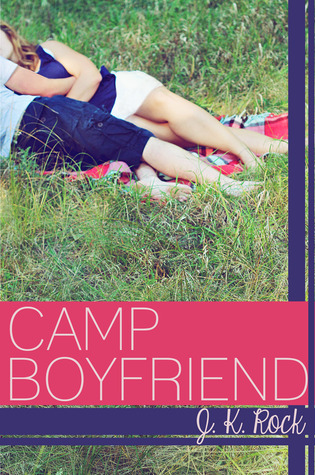 Summary: (Camp Boyfriend)
The summer of her dreams is about to get a reality check.
They said it couldn't be done, but geeky sophomore Lauren Carlson transformed herself into a popular girl after moving to a new school halfway across the country. Amazing what losing her braces and going out for cheerleading will do. Only trouble is, the popular crowd is wearing on Lauren's nerves and she can't wait to return to summer camp where she's valued for her brain instead of her handsprings. She misses her old friends and most of all, her long time camp-only boyfriend, Seth. This year she intends to upgrade their relationship to year-round status once she's broken up with her new, jock boyfriend, Matt. He doesn't even begin to know the real her, a girl fascinated by the night sky who dreams of discovering new planets and galaxies.
But Matt isn't giving her up without a fight. As he makes his case to stay together, Lauren begins to realize his feelings run deeper than she ever would have guessed. What if the guy she thought she was meant to be with forever isn't really The One? Returning to Camp Juniper Point was supposed to ground her uprooted life, but she's more adrift than ever. Everything feels different and soon Lauren's friends are turning on her and both guys question what she really wants. As summer tensions escalate, Lauren wonders if she's changed more than she thought. Will her first big discovery be herself?
Hey guys, welcome to my tour stop for the Camp Payback Tour hosted by AToMR Promotions. I was given the chance to review both the first and second book so yeah, let's just get into it!
Lauren Carlson is super pumped for the summer. But first, she's got to clear up some things. At the top is breaking things off with her popular boyfriend Matt because at camp, she has her camp boyfriend named Seth. Things start to get complicated when Matt announces that his parents are getting divorced and he's tagging along to Juniper Point with Lauren.
Camp Boyfriend started out as a pretty entertaining read. I enjoyed the little quirks in the story and I have to admit, the drama was pretty funny. After a while, I just got a bit annoyed. Lauren couldn't seem to pick a guy and spent the entire book torn between two guys. Seth she's loved since forever and Matt who she loves but feels like doesn't really know. I might have reached the point at the story where I just ready to tear my hair out. Another problem I had with book was the judgment. Lauren's best buds since forever were so ready to jump against her just because she came back to camp looking different, looking popular. I felt really defensive when they were so willing to turn against her when she needed them the most. I understood how they might feel threatened, but I still think that in the long run, they abandoned her way too easily. Camp Boyfriend was pretty frustrating for me to read, but I have to admit, the ending was satisfying. Lauren finally chooses and guy, her friends finally get their brains checked, and life is restored. Also, comparing Lauren from the beginning to her at the end, it's fair to say that she definitely has grown. I think the biggest thing you can really take away from this book is that sometimes you have to move on. What happened in the past, the people from your past aren't always the right answer, sometimes, you've just got to move on.
ASIN (Camp Payback):

B00IIIPMWM
Pages (Camp Payback): 304
Alex has big plans for camp this year, starting with making it the best summer ever. Having fun and breaking some rules will get her the payback she wants against her parents and her ex-boyfriend. Because of his disgusting texts, she's headed to a super strict all-girls school in the fall.
Then she meets Javier and revenge doesn't seem nearly as important as getting to know the troubled loner determined to keep a low profile at camp. But Alex's trouble-magnet personality and Javier's need to stay in the background don't mix nearly as well as their irresistible chemistry.
With her home life eroding under her feet and her last year of summer camp speeding to a close, Alex wants to make her mark on the world and squeeze every bit of fun out of her time with Javier. Too bad her old plans for revenge turn back on her just in time to ruin everything. Will she lose Javier too?
Alex has a pretty hectic life. As the "rebellious" daughter of a perfect marriage, how-to-raise your child power couple. Juniper Point has always been her place to escape her parents' iron rule and be herself. This year, things are a tad bit different. She has a crazy ex-boyfriend to deal with, a new cabinmate with a holier-than-thou attitude, and a smokin' hot new kitchen boy who does not need her drama.
Camp Payback was definitely my favorite out of the two books. Sorry Lauren, Matt, and Seth. Alex's life seemed so suffocating and she's such an bright, lively person with a personality that you instantly like. Javier is doing his best to stay out of the spotlight. Highlighted as the kid with anger problems whose mother is in jail, he needs to be good so that when his mother is released, they can start their lives over again. You have to admire that kid, he's a freaking fantastic cook, his love for his mother is strong, and he's pretty cute. Camp Payback spoke out to me a lot and I took a lot more from it than I expected. Alex's goal in camp was to get people to notice herself for who she really was, not the rebellious kid from her parents' "Wholesome Home" blog. What she learns through the help of her friends, Javier, and the new girl Yasmine was to listen instead of jumping into conclusions, to look into the mirror and see her own reflection, and that sometimes to be in control you have to let others take the rein. Her character growth completely blew my mind and I was so happy for her in the end.