ISBN:

0544331648


Pages: 289
Publication Date: September 2, 2014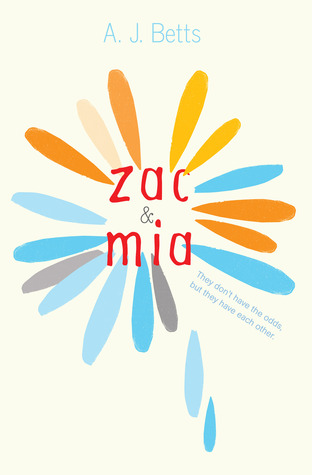 The Fault in Our Stars meets Eleanor and Park in this tough and tender young adult novel that's a lot about love (and a little about cancer).
Winner of the 2012 Australian Text Prize
"When I was little I believed in Jesus and Santa, spontaneous combustion, and the Loch Ness monster. Now I believe in science, statistics, and antibiotics." So says seventeen-year-old Zac Meier during a long, grueling leukemia treatment in Perth, Australia. A loud blast of Lady Gaga alerts him to the presence of Mia, the angry, not-at-all-stoic cancer patient in the room next door. Once released, the two near-strangers can't forget each other, even as they desperately try to resume normal lives. The story of their mysterious connection drives this unflinchingly tough, tender novel told in two voices.
Hello everyone! Today I'm finally bringing my review for Zac and Mia by AJ Betts! Surprisingly and I swear I did not know until I was drafting this post, but today is also the day that Zac and Mia came out last year so happy one year anniversary! I also just finished my first day as a senior in high school and honestly I'm already exhausted...but everything else aside, let's get into the review~
Zac and Mia follows two teenagers from completely opposite worlds who meet when they become neighbors in a hospital after they are both diagnosed with cancer. Zac has been through the treatment multiple times so this is nothing new for him. Mia on the other hand is going through her first run of chemo and she's not taking it very well. The story follows the two strangers come friends who find a form of support and hope from each other that they didn't expect.
This story really surprised especially from it's claim - The Fault in Our Stars meets Eleanor and Park. Those two books are extremely popular in YA Contemporary and while I've enjoyed them I didn't love them like everyone else, so you could say my expectations weren't high for this book. However, I found myself really enjoying how the story was turning out as well as the complexity of everything. It was actually really cool how complex the situations seemed but how simple the author seemed to state what was going on. (If that makes any sense at all...)
I was going through Goodreads after reading this book and a surprising amount of people really hated Mia. She was definitely a difficult character to relate to since she spent a big part of the book just pushing people away from her. However, her character growth is absolutely amazing! At the end of the book she was a completely different person and the way her character grew in depth was amazing. Zac is pretty much a sweetheart even in his darkest moments so...enough said about him. The thing I loved most about the characters were how they brought each other up throughout the book. Zac is Mia's new beginning after she realizes how artificial her pre-cancer life was and in the end she helps him realize that even though things aren't in his favor, there is always hope.
Overall, I just loved how simple and short this book was. It was a really quick read but I managed to get so much for so little. Also, does anyone want to visit Zac's alpaca farm with me? If you pick this up, let me know your thoughts!
3.5 out of 5 stars
Foreverly Obsessed,