ISBN:

0803739095


Pages: 422
Publication Date: April 15, 2014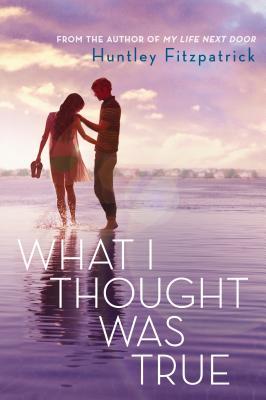 From the acclaimed author of My Life Next Door comes a swoony summertime romance full of expectation and regret, humor and hard questions.
Gwen Castle has never so badly wanted to say good-bye to her island home till now: the summer her Biggest Mistake Ever, Cassidy Somers, takes a job there as the local yard boy. He's a rich kid from across the bridge in Stony Bay, and she hails from a family of fishermen and housecleaners who keep the island's summer people happy. Gwen worries a life of cleaning houses will be her fate too, but just when it looks like she'll never escape her past—or the island—Gwen's dad gives her some shocking advice. Sparks fly and secret histories unspool as Gwen spends a gorgeous, restless summer struggling to resolve what she thought was true—about the place she lives, the people she loves, and even herself—with what really is.
A magnetic, push-you-pull-me romance with depth, this is for fans of Sarah Dessen, Jenny Han, and Deb Caletti.
Hello everyone! Today I'm finally going to be doing my review for What I Thought was True by Huntley Fitzpatrick! I read this during the BookTubeAThon for the challenge to read someone else's favorite book which technically isn't 100% true but it was pretty close. Huntley Fitzpatrick is one of my friend's favorite authors...anywho, let's just into the review~
Gwen Castle can't wait to get out of her home on an island and be rid of all the rich vacation people who come in the summer. After a minor incident with Cassidy Somers, a rich kid from across the bridge, she is determined to get out as fast as she can after high school. Her biggest fear is to be subjected to cleaning houses like her mother. Then she gets some interesting advice from her father that helps to push her into a summer full of
restlessness
and romance as she tries to find out who she wants to be and what is true in the world that she lives in.
Huntley Fitzpatrick is just one of those authors who just write about pretty much everything and it will be profound. What I Thought Was True deals with a lot of real life factors in teenage lives that other contemporaries tend to skip over - divorce, teenage hormones, society classes, etc. This story outlines the struggles that Gwen faces as she has to learn from mistakes she's made in the past that led to some slut-shaming in her life now. I found it pretty refreshing how Fitzpatrick took a different route to exploring the societal take towards slut-shaming. She didn't use the standard pure girl and a sexually active friend to demonstrate her purpose. It made the characters and the events that were happening a lot more real.
While I loved a lot of things about this book, the factor that bumped it from a 4 to a 3.5 in terms of rating was the length. There were so many parts of the book that could have been cut out or at least shortened and the story would still be fantastic. With the being said, I did struggle a bit to finish the book because at times I got so bored. Factor the fact that I was reading this during a readathon and you can see my frustration...
As far as characters go, I mentioned before how Gwen was depicted as such a real character through her actions and struggles. I really loved the slight comparison between Gwen and Cass because it just displayed what a real teenage relationship was. There's some drama, but not an overload of it and they talk about mature things and think with their heads. On the otherhand you have Gwen's best friend and cousin. Now that was a
curve ball
I wasn't expecting. I'm not going to go into too much detail with it, but it was kind of interesting how different their relationship was from Cass and Gwen's.
I still really enjoyed the book despite being slightly frustrated with how long things were going on. With the ending, it felt like the author realized how long the book was getting and just wrapped everything up as quickly as she could. However, the ideas and values that were addressed in the story kind of balanced everything out.