ISBN:

1633754251
Pages: 245
Publication Date: September 14, 2015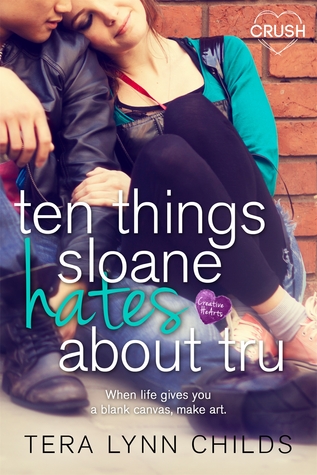 When life gives you a blank canvas, make art.
Sloane Whitaker hates everything about moving to Texas. She hates leaving behind her friends and half her family in New York, starting over senior year at Austin's NextGen Academy, and having to say she lives in Texas. Most of all, she hates that it's all her fault. If she wants to earn her way back to the Big Apple, she has to prove she can still be the perfect daughter.
Which means no vandalism art, no trouble at school, and absolutely no Tru Dorsey, her serial screw-up neighbor, who loves nothing more than pushing her buttons.
But from the moment he vaults onto the roof outside her bedroom, there is something about him that makes her want to break every rule. Suddenly it' s not the ten things she hates about Tru that are at the top of her list. It's the ten reasons she doesn't want to be without him.
Hello everyone! Today's post is going to be a review for Ten Things Sloane Hates About Tru! This is a new Entangled Crush that comes out next week so if you're interested be sure to pre-order by clicking the cover above!
Sloane Whitaker just had her life turned upside down after the big Incident that landed her in Texas away from all her friend in the Big Apple. Texas has nothing compared to the city she loves and she will do everything to get herself back to its busy streets. That means she has to prove that she can be the perfect daughter for the first semester. It also means that she has to stay as far away from Truman Dorsey, her next door neighbor, son of her mother's college best friend, and family screw up. But he has this unmistakable charm that somehow finds its way under her skin and makes her want to stay.
This book was actually really fun which I was really pleased about. I loved how the story focused on the concept of art with the message that art can save lives. I was a bit surprised by how deep the underlying message of the overall story was since the title made it seem like a fluffy contemporary as Entangled Crush reads are usually fast and fun. While this book was definitely fast and fun, it definitely had a deeper meaning. The story also touches on the subject of abusive relationships but it doesn't go into a lot of detail in terms of the outcome.
Sloane was...a unique character. She had her snarky moments, but at the beginning I felt like she acted like an extremely (for lack of a better word) spoiled brat. She absolutely hated Texas without even giving it a try. While I understand the thrill of NYC since I grew up there, I think it'd be a cool change of scenery to live in Texas. Her reasons for hating Texas and wanting to go back seemed really self centered. However, once you find out what the "Incident" is, things start to make more sense and her character begins to have more depth.
Tru is probably my favorite character just because he is so complex. He's a really great guy who definitely has his flaws but the things that does for Sloane are absolutely heartwarming. He doesn't try to change who he is to fit other people and stays true (Tru?) to himself. Overall he's pretty much amazing.
The ending kind of bugged me a lot. I loved how there was an element of "mystery" or "backstabbing" underplot and I definitely made my share of wild guesses.
My problem lay in the fact that the story just stopped after the culprit was revealed. There were just so many things that I still wanted to be resolved!! I know this will be part of a series so I'm wondering if Tru and Sloane will appear in the next books...hopefully they do! With that being said, I'm really excited to see what the rest of the series hold. Plus, the series title: Creative HeArts is pretty much amazing!
(A copy was provided by Entangled Crush but this review is 100% my own.)