ISBN: 9781250051431
Pages: 304
Source: The Reading Room
Publication Date: September 16, 2014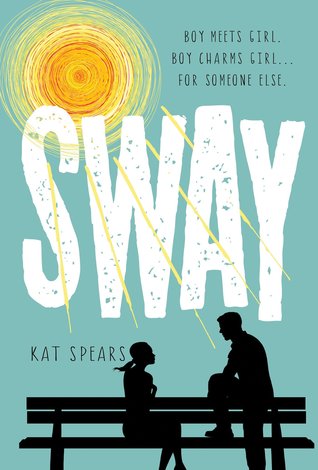 In Kat Spears's hilarious and often poignant debut, high school senior Jesse Alderman, or "Sway," as he's known, could sell hell to a bishop. He also specializes in getting things people want---term papers, a date with the prom queen, fake IDs. He has few close friends and he
never EVER
lets emotions get in the way. For Jesse, life is simply a series of business transactions.
But when Ken Foster, captain of the football team, leading candidate for homecoming king, and all-around jerk, hires Jesse to help him win the heart of the angelic Bridget Smalley, Jesse finds himself feeling all sorts of things. While following Bridget and learning the intimate details of her life, he falls helplessly in love for the very first time. He also finds himself in an accidental friendship with Bridget's belligerent and self-pitying younger brother who has cerebral palsy. Suddenly, Jesse is visiting old folks at a nursing home in order to run into Bridget, and offering his time to help the less fortunate, all the while developing a bond with this young man who idolizes him. Could the tin man really have a heart after all?
A Cyrano de Bergerac story with a modern twist, Sway is told from Jesse's point of view with unapologetic truth and biting humor, his observations about the world around him untempered by empathy or compassion---until Bridget's presence in his life forces him to confront his quiet devastation over a life-changing event a year earlier and maybe, just maybe, feel
something
again.
Hello everyone and welcome to my review for Sway by Kat Spears. This book comes out TOMORROW so be sure to check your local bookstore or order it online! Thanks so much to The Reading Room for sending me a copy to review! Let's get started :)
Jesse Alderson is your man if you want anything. From Fake IDs to a date with whoever you want, as long as you can pay up, he'll get it done. He's connections, he's smooth, and he gets the job done. That is until he is approached by Ken Foster with the request to get him a date with Bridget Smalley, the sweetest and most angelic girl in the school. Jesse's golden rule is to never let emotions get in the way, but the more time he spend with Bridget, the closer he gets to breaking that rule.
Jesse was such a fantastic narrator. I absolutely adored his character and his voice throughout the story. He was so blunt at times and at other times he was so freaking smooth you wanted to smack him the head before falling over laughing. He is so complex and so real as a character with his endless list of flaws. Despite that, he does has his good side and we get to see that through the things that he does for Bridget. This is a Cyrano de Bergerac based story and I think that it's a pretty good twist on the classic play. Jesse definitely does the charming of Bridget for a completely different guy which is essentially what Cyrano does. What he does differently is that he steps up at points in the book when he finds himself falling in love with Bridget.
Bridget is probably the character that I had the most problems with. I didn't have much of a problem with Ken because I knew from the beginning that he was going to be a douchey person so I think he was portrayed pretty well. But Bridget...she is such a freaking saint throughout the entire book and it seems like there is nothing bad about her. I tried to find at least one flaw in her, even if it was something stupid, but I couldn't find anything. When the truth of everything came out at the end, I was hoping that maybe she'd blow up and we get to see some flaw, but she ended up just walking away feeling hurt and as for her feelings towards Jesse? She couldn't hate him because she was too damn nice. I didn't hate her, but I just felt like she wasn't real because she was just too darn perfect.
Pete on the other hand I adored as well. He's Bridget's younger brother and he as cerebral palsy. Kat Spears made him such a normal character that you forget at times that he has a disorder because he's just a normal kid. I felt like I could understand where he was coming from being the "different" kid in the family and feeling a bit neglected when in comparison to his perfect older sister even though in my family, I'm the older one. It was the poignant way that the author portrayed him as that he became Jesse's best friend and the one who really slaps some reality into the otherwise "emotionless" Sway.
There's also Joey. She's one heck of a complex character, but it was through her that we get the first glimpses of how amazing Jesse's character is. Their friendship is special but indifferent, but it's just something so beautiful at the same time. Actually, calling it beautiful is a bit weird, but they care for each other and through their friendship we get to see Jesse's heart that he hid after his mother died. And the last character I want to talk about is Carter. Carter is an amazing friend, a part time druggie but nonetheless, he is someone that Jesse could count on and for that I think he's awesome.
So that's all my thoughts on the characters. As for the plot, it was interesting, but the "infatuation" with Bridget which was the main focus of the book became a little bit boring and redundant for me. Nonetheless, I enjoyed reading this book and seeing a different take on Cyrano de Bergerac and I guess I'm glad that everything works out, even if Jesse had to take a couple of beatings to get there.
Overall, I definitely recommend it. It's a fun read and I definitely cracked up with Jesse's smooth humor and narration. My biggest plus for this book is the fantastic narration and the amazing creation of the main character. So that's it, if you pick this book up please let me know your thoughts below!