ISBN:

1416975888
Pages: 502
Source: Library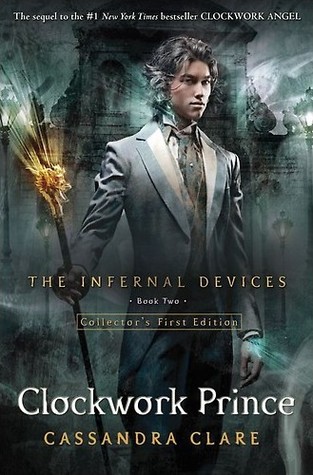 In the magical underworld of Victorian London, Tessa Gray has at last found safety with the Shadowhunters. But that safety proves fleeting when rogue forces in the Clave plot to see her protector, Charlotte, replaced as head of the Institute. If Charlotte loses her position, Tessa will be out on the street—and easy prey for the mysterious Magister, who wants to use Tessa's powers for his own dark ends.
With the help of the handsome, self-destructive Will and the fiercely devoted Jem, Tessa discovers that the Magister's war on the Shadowhunters is deeply personal. He blames them for a long-ago tragedy that shattered his life. To unravel the secrets of the past, the trio journeys from mist-shrouded Yorkshire to a manor house that holds untold horrors, from the slums of London to an enchanted ballroom where Tessa discovers that the truth of her parentage is more sinister than she had imagined. When they encounter a clockwork demon bearing a warning for Will, they realize that the Magister himself knows their every move—and that one of their own has betrayed them.
Tessa finds her heart drawn more and more to Jem, but her longing for Will, despite his dark moods, continues to unsettle her. But something is changing in Will—the wall he has built around himself is crumbling. Could finding the Magister free Will from his secrets and give Tessa the answers about who she is and what she was born to do?
As their dangerous search for the Magister and the truth leads the friends into peril, Tessa learns that when love and lies are mixed, they can corrupt even the purest heart.
Hey everyone! Welcome to my review for the second book in the Infernal Devices Trilogy. I've got quite a lot of feels so let's just get into the review:
OH MY GOODNESS GUYS! WILL HERONDALE HAS A HEART! In the first book he was pretty much this big fat jerk who acted like a pompous ass to Tessa which made me dislike him a lot. I had high hopes for him as a character because everyone seems to love him and now I know why. I am so sorry William Herondale for ever doubting you. Clockwork Prince focuses a lot on the characters, their past, and the development of the impending danger of Mortmain's clockwork army. The story continues to wrap intrigue around you and you find yourself turning the pages almost non-stop because you desperately want to know what happens next. Now that I have new feelings about Will's character the love triangle becomes a little more messy in my mind. I think I prefer Will with Tessa just so I can have Jem for myself. Okay, joking aside, I personally think that if Jem wasn't sick and dying that Tessa would actually pick Will. I just have this feeling that she doesn't want to hurt Jem and leave him because she's afraid her rejection will kill him. Let me explain, she says she loves Jem and you can obviously see it, but Will is constantly on her mind and I don't think that's really fair for Jem. Just my personal thought. This book didn't have a lot of action with Mortmain really just planning everyone's doom, but you really get to know all the characters a lot better and become more invested in the story. Oh and may I just say, Benedict Lightwood is a big fat butt who needs to go live in a hole and leave Charlotte alone. Also, I definitely expected a certain someone's betrayal to the Shadowhunters, I knew it was coming and I almost laughed when it actually happened. The ending definitely was a bit of a heartstopper after all the information you just learned about Will and then that just happens. Clockwork Prince is a pretty awesome sequel especially for a trilogy and it really just tightens the hold that the trilogy has on your heart and makes you want to know what happens next.