ISBN:
9780692259016
Pages: 390
Source: Ya Bound
Appearance: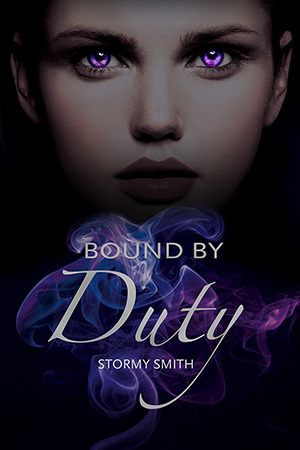 Summary:
Amelia grew up in a world of half-truths. She knows she's an Elder but has no idea what that means. Her father reminds her daily that she must maintain control but he refuses to explain why. Even worse, she's betrothed to the prince of the Immortals and she doesn't even know his name.
Finally breaking free to live a few normal years at a community college, the last thing Amelia expects is to find her best friend in a cheeky Southern girl and to fall for a self-assured human who sees her for who she is and not what she'll be.
As she learns more about herself, Amelia realizes the line between love and duty is a thin one. As her power continues to increase exponentially and her questions are slowly answered, Amelia must make the ultimate choice. The question is, will her head or her heart win the battle?
Hey everyone! Welcome to my tour stop for the Bound by Duty! As always, please check out the other tour stops by clicking the banner up above! :)
Okay, so I have a confession. I liked this book. That's not a bad thing, but compared to other people who loooved this book, I'm definitely the odd one out. The story was really well written and engaging, but I had a little problem with the main character. Also, the drama that kind of encircled her in general. Don't get me wrong, the story is definitely fast paced and interesting, but in my perspective there was a lot of drama.
Amelia is an Elder and she has no idea what that means. Her entire life was spent keeping everything secret and not unleashing her power. Well now she's in college, away from the protection of her father, and counting the days until she meets her betrothed, the prince of Immortals whose mother is some crazy psycho queen. She's got this super awesome best friend named Bethany, a loving and supportive brother named Cole, and a pretty hot boyfriend (of sorts) named Aiden. Oh there's also Micah who is also a Mage and who is sort of dating Bethany.
At the beginning I was pretty intrigued by the story. The prologue was fantastic, it was so well constructed I was immediately hooked. I wanted to know more about Julia and about the other Elders, but instead we got Amelia. I'll be honest to say that she isn't my favorite character. For someone who has kept her powers contained for the past 18 years and knows about her future duty to her people, she throws quite a lot of tantrums that involve things levitating and smashing to the ground. Honestly, thank the gods for Cole because without him to calm her down, I think she'd probably blow the world apart. She is strong, but not really independent and I hope in the future books we can sort of see her stand more on her two feet.
The drama was another thing I had a little issue with. There's sort of this "insta-attraction" that occurs between Amelia and Aiden and I still don't know how I feel about the relationship. However, I will admit that Aiden is definitely gorgeous and a heartthrob. The romantic drama was a bit much. How do I explain this? I thought Amelia could have handled things better? But nonetheless, I still liked it...some part were a bit unbearable (both good and bad) especially the ending which repeatedly stabbed by heart with every single word.
Personally I loved Bethany, she was funny, supportive, strong, and pretty much the most awesome best friend that Amelia could have. With Micah doing what he is doing, is there a little Cole and Bethany in the future? ;) That's just a speculation but I'm definitely getting that vibe. She definitely brightened the story and added a little girly flair that I absolutely loved. Also, the AniMages!! Their story completely broke my heart, especially Elias's. I think I got some welling underneath the eyes.
Okay last thing. Queen Julia and her crazy Hunters. I want to know more about her so badly!! As the villain in the story, a lot of things about her are pretty hush hush. While she does show up and you can obviously sense that she's evil and mental, you don't get enough. I desperately want more of her evilness...is that weird?
So that's it! I have pretty conflicting feelings about the book but I still think it was a pretty solid debut. The author introduces problems that hopefully will get resolved in the future. I still have a love/hate relationship with Amelia but I can't wait to see how she grows. THAT ENDING THOUGH!
3.5 out of 5 stars
Foreverly Obsessed,