ISBN: 978

0385534639


Pages: 387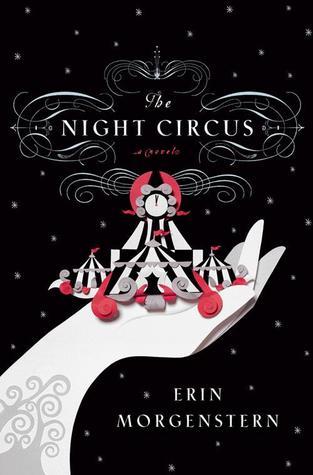 The circus arrives without warning. No announcements precede it. It is simply there, when yesterday it was not. Within the black-and-white striped canvas tents is an utterly unique experience full of breathtaking amazements. It is called Le Cirque des Rêves, and it is only open at night.
But behind the scenes, a fierce competition is underway: a duel between two young magicians, Celia and Marco, who have been trained since childhood expressly for this purpose by their mercurial instructors. Unbeknownst to them both, this is a game in which only one can be left standing. Despite the high stakes, Celia and Marco soon tumble headfirst into love, setting off a domino effect of dangerous consequences, and leaving the lives of everyone, from the performers to the patrons, hanging in the balance.
Hi everybody! Welcome to the first of hopefully many Conversation Reviews!! So Claudz and I recently read the Night Circus and since it's the rare occasion that we read the same book at pretty much the same time, we thought we'd do a little conversation review where we talk about the book and discuss how we feel! So I hope you guys enjoy!!
Claudia: Marco and celia tho… SO FREAKING CUTE!
Riv: Ahaha, I have to agree I did really like them. What did you think about the whole "duel" idea?
Claudia:I thought it was so stupid. It was basically trying to prove who has a better teaching method.
Riv: Yup, plus the disappointing part was that there wasn't any form of an actual duel. It was just them working together and piece by piece creating the Night Circus. I thought duel was like Harry Potter vs. ____ type of duel with like colorful lightning shooting at each other
Claudia: That's what I thought at first too. But I really like how they were trying to one up each other.
Riv: Yah, the writing style though!!! Ahhh, I am so in love. It's descriptive and beautiful and just paints this beautiful dream-like landscape!
Claudia:OMG, yes! Before I read it I read some reviews on goodreads and some of them said there was too much description, so I was really worried it'd be like Charles Dickens or whatever. But it wasn't at all! The description made it super magical.
Riv: Thank gods it wasn't Dickens!
Claudia: I loved Ferr Frederidak (dunno how to spell his name lol) I actually cried when…
Riv: Ahaha, the characters were amazing. Bailey was adorable! Even after all those years he went back for Poppet! ♥♥
Claudia: IKR! I was gushing when he went to look for the girl with red hair after 10 YEARS.
Riv: Hm...in a Face Off would you pick Marco and Celia or Scott and Kira from Teen Wolf? (wicked laughing).
Claudia: That's a hard one. I think Marco and Celia would have an advantage since they can manipulate their surroundings. Scott and Kira rely on their superhuman strength and speed.
Riv: How about if it was based on how much you love them? Or like their relationship?
Claudia:OMG MY LOVE IS THAT POWERFUL? XD
Riv: Of course! NOW DECIDE Mwahahaha!
Claudia:This is like trying to pick my favorite child, jk everyone has a favorite child (don't deny it lol).
Riv: Okay let's make this fair. I have to pick between Celico (Marco and Celia ship name right there) or…Ven and Linc from Imitation...a book I recently read XD
Claudia: ok, 3,2,1 CHOOSE
Riv: Ahhhh, I don't know! Um...um...
Claudia: I would have to say…….WHY IS THIS SO HARD?? Celico wins. (Sorry, Scira) I just feel like Celico's love is strong, whereas Scira might just be high school love.
Riv: If that's your reasoning, Celico definitely wins that aspect, but I'm going to go with Ven and Linc...just their relationship is fragile but strong and the world they live in is in my point of view, a lot crueler than The Night Circus...so yeah...Ven and Linc...
Claudia: How amazing would it be if the Night Circus was real? Reading the book made me feel like it was real. I was almost expecting black and white striped tents to pop up.
Riv: I would go, hands down. That would be the most amazing experience ever! We need to go. No questions about it.
Claudia: I would definitely be a reveur: just follow the circus EVERYWHERE. Since Celia and Marco are always adding new tents and stuff to the circus, I'd never get tired of going.
Riv: Erm...I agree to some extent, but I feel like it'd be more for a once in a lifetime mind-blowing experience. That my personal preference. Maybe go see it once every decade or so, but not following it everywhere...
Claudia: I get that it makes it more special, but it is just way too amazing (for me) to only see once in a while.
Riv: Everyone has their own opinion XD Okay, I've got a question for you: What was it that blew your mind away with this book? I'm really curious as to what triggered those emotions? Don't get me wrong, I really liked the book, but to be honest, I wouldn't say I loved it to the moon and back.
Claudia: I think the writing style made me love this book so much. You can just sense the excitement and suspense in the circus and outside the circus.
Riv: I agree that the writing is beautiful, it's almost magical. What did you think about the multiple POVs? Aren't there like 15?
Claudia:I think it gave the readers a better understanding of what was going around. If it was just one or two people's POV, I don't think we'd get the whole story. Each POV has it's reason for being in the book.
Riv: Now that you put it that way it definitely makes more sense. I'll admit that I was a bit confused. I'm never good with multiple POV books >.<
Claudia: Sometimes I was a bit confused, but I just plowed through it and figured it out eventually.
Riv: I think my favorite part of the entire novel were those excerpts where the book talked to you.
Claudia: YES, I totally agree. It was like I was at the circus. Like in the beginning, I felt like I was looking at the gate. When it described the circus itself I got really excited until I remembered it wasn't real… then I cried.
Riv: You actually cried though right? XD
Claudia: haha maybe.. just a bit….
Riv: I think I did a lot of breath holding and heart palpitations and maybe a little bit of welling under the eyes, but surprisingly I didn't cry. I was scared when you said you cried because usually I'm the book weeper.
Claudia: I was really satisfied with the ending. I was sad it ended, but I don't feel like there needs to be another book.
Riv: Oh you know what would be cool? Like a novella from a little kid's perspective when he/she first sees the Night Circus that ___ runs. (Avoiding spoilers.) But yeah, I like the ending, I had a smile and felt pretty satisfied
Claudia:I'd love a novella about Tsukiko (?) and her challenge.
Riv: Omgawds, I loved her. Yes!!! A prequel!! That'd be amazing, I love her oh my goodness!
Claudia: I don't think a book has ever made me gush like this before, even though there wasn't a whole lot of romance.
Riv: I've never seen you gush so much before...I was a bit shocked and you definitely set my expectations up for the book. Needless to say they were definitely filled.
Claudia: I told you so ;)
Riv: Ahahaha. So I think it's a wrap? Any last words?
Claudia:READ THE BOOK. YOU WON'T REGRET IT!
Riv: I second that notion, but I will add a little disclaimer of sorts. You need to be in the mood for a slower paced book that has dream-like descriptions and paints a beautiful movie in your head. If you are looking for fast paced dueling, you will not find that. But yes, the book is gorgeous and definitely recommend!
Claudia:Well I guess that's it!
Riv: Thanks so much for reading, I hoped you guys liked our Conversaion Review! Let us know if you would like more of these!!
Claudia:I definitely enjoyed it!
Riv: Yeah, it was a lot of fun! Until next time!!
"Everything I have done, every change I have made to that circus, every impossible feat and astounding sight, I have done for her"
"When all of this is over, no matter which one of us wins, I will not let you go so easily."
"[Poppet] leans forward and kisses him … on the lips, and Bailey knows in that moment that he will follow her anywhere"
"I am tired of trying to hold things together that cannot be held, ...Trying to control what cannot be controlled. I am tried of denying myself what i want for fear of breaking things i cannot fix. they will break no matter what we do."
Foreverly Obsessed,