ISBN:

0545424925
Pages: 416
Publication Date: September 18 2012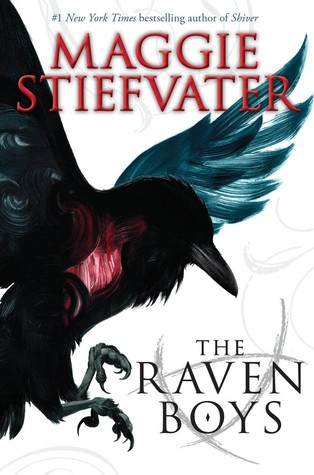 "There are only two reasons a non-seer would see a spirit on St. Mark's Eve," Neeve said. "Either you're his true love . . . or you killed him."
It is freezing in the churchyard, even before the dead arrive.
Every year, Blue Sargent stands next to her clairvoyant mother as the soon-to-be dead walk past. Blue herself never sees them—not until this year, when a boy emerges from the dark and speaks directly to her.
His name is Gansey, and Blue soon discovers that he is a rich student at Aglionby, the local private school. Blue has a policy of staying away from Aglionby boys. Known as Raven Boys, they can only mean trouble.
But Blue is drawn to Gansey, in a way she can't entirely explain. He has it all—family money, good looks, devoted friends—but he's looking for much more than that. He is on a quest that has encompassed three other Raven Boys: Adam, the scholarship student who resents all the privilege around him; Ronan, the fierce soul who ranges from anger to despair; and Noah, the taciturn watcher of the four, who notices many things but says very little.
For as long as she can remember, Blue has been warned that she will cause her true love to die. She never thought this would be a problem. But now, as her life becomes caught up in the strange and sinister world of the Raven Boys, she's not so sure anymore.
From Maggie Stiefvater, the bestselling and acclaimed author of the Shiver trilogy and The Scorpio Races, comes a spellbinding new series where the inevitability of death and the nature of love lead us to a place we've never been before.
Hello everyone! So first of all I'm terribly sorry for how inactive I have been this month despite it being summer. The only excuse I have is that if I'm not watching YouTube videos, I'm reading which I guess is good but at the same time it means I have so many books I need to review now...Anyway The Raven Boys has been one of my most highly anticipated reads ever since BookTube exploded with the Raven Cycle so I'm super pumped that I finally got around to reading it!
The story follows Blue Sargent who's been told since she was little that one day she's going to meet a guy, fall in love, but if she kisses him he's going to die. So of course, she's spent her entire life avoiding any form of relationship until she meets Gansey on the spirit road on St. Mark's Eve. Since Blue doesn't share the same psychic abilities that the rest of her family, she normally can't see spirits but then she learns something else. Gansey is actually still alive and he conveniently makes an appointment to see her mom for a reading. Soon Blue finds herself swept up in this crazy journey to discover if legends are really true and makes friends with the very people she never thought she'd like.
Oh my goodness this book is amazing! I was so scared going into this book because I remember watching BookTube videos and almost everyone saying how they hated the Shiver trilogy (which I personally thought wasn't all that bad). My brain immediately jumped to the worse case scenario being that if I didn't hate the Shiver trilogy and everyone else did then if everyone loves this series that must mean I will hate it. Thank the heavens that isn't the case because this book is absolutely so much fun to read and it's spectacular! The writing style is so intricate and thought out to the point where you can tell that Maggie Stiefvater has thought through every aspect of the story and knows what is going to happen next.
The feel of the story is really unique and I believe Jenny from Jellyfy on BookTube called it magical realism which fits the book pretty perfectly. The air surrounding the book is just so mysterious and haunting while being heart pounding and intense. I swear once I hit a certain point I could not stop flipping the pages because I needed to know what happened next.
The characters were the best part of it. Each and every one is so incredibly unique and complex and I can't help but love them all. Blue is such an amazing character and I loved how she was surrounded by her family which is composed of her mother, aunts, and cousins and that sort of surrounding allowed her to be really strong and independent. I really loved how she didn't shy away from any big thing that happened or relied on the guys, she had enough of a girly personality but managed to stand on her own at the same time.
I'm dedicating an entire paragraph to the Raven Boys whom I loved so so much! Gansey was just a perfect leader with his unending enthusiasm and charm. It was so interesting to see him switch between his Mr. Politician persona and his "Let's go explore the world" excited child attitude. Ronan was so mysterious and complex. At first I thought I would hate him but those snippets which revealed more about him as a person were just mindblowing to read. Adam I loved since the beginning and even though he made some bad choices, I loved how he slowly grew a backbone and stood up for himself. And last but not least, Noah. My heart literally breaks for him but I still love his character so much with all those weird quirks.
The romance in the story was so subtle which you don't anticipate since the summary hints at Blue's true love curse. I liked the subplot the romance took and it actually doesn't even matter in the first book but I can already see if building up to something bigger in the later books which I'm surprisingly really excited about.
This book was absolutely fantastic to read and I adored every single moment. Stay tuned for tomorrow because I've got some pretty exciting news regarding the blog and the Raven Boys is going to be part of it! :)