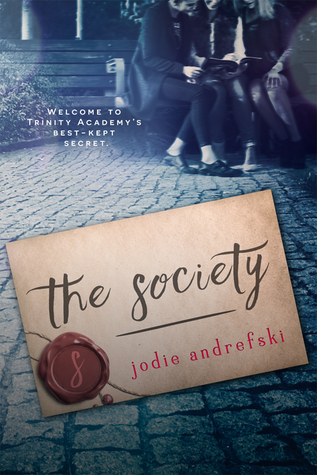 The Society by Jodie Andrefski
ISBN:

978-1633753181


Pages: 304
Source: Entangled Teen
Publication Date: May 3, 2016
Initial Reaction:
🙂
Welcome to Trinity Academy's best-kept secret.
The Society.
You've been handpicked by the elite of the elite to become a member. But first you'll have to prove your worth by making it through Hell Week.
Do you have what it takes?
It's time to find out.
Samantha Evans knows she'd never get an invite to rush the Society—not after her dad went to jail for insider trading. But after years of relentless bullying at the hands of the Society's queen bee, Jessica, she's ready to take down Jessica and the Society one peg at a time from the inside out.
All it'll take is a bit of computer hacking, a few fake invitations, some eager rushees…and Sam will get her revenge.
The Society is like a college frat or sorority for high schoolers at the Trinity Academy. Everyone wants to be a member but only the creme de la creme of the high school social ladder can get in. Samantha Evans is at the bottom of said social ladder after her father went to jail for insider trading and her ex-best friend Jessica is at the time. After dealing with Jessica's taunts for years, Sam comes up with an idea to bring Jessica and the elusive Society down from their high pedestal by playing their games against them.
I have a confession, I completely forgot what this book was about when I started reading. I requested it from Entangled Teen and for some reason I thought that this book was a historical fiction novel about some society. I mean...the cover with the envelope and seal threw me off. Needless to say, was pretty surprised but I found out that this book took place in modern times and in a high school no less.
While I haven't read a lot of books that focus on bullying, I think this one definitely takes a very interesting approach. In the beginning, you are exposed to all the horrors that Jessica does to Sam and it's honestly a miracle that she is still so strong. I don't personally agree with Jessica's motives for bullying Sam, I can see some sense in why their friendship was so horribly broken.
The interesting part of the story really lay in the deep character development of Sam throughout the story. She starts off as a scared little mouse but once she's fueled by her idea of revenge, she slowly grows a bit stronger with each passing day. While I'm not saying I approve of revenge in any way, it was a really important catalyst in showing Sam what she believes in and that her identity is not rooted in her father's actions.
The romance-y relationship of this book was kinda weird at times. Ransom was...*shudders* really creepy. Think about that stereotypical bad boy who rides a motorcycle, is older than you, is incredibly good looking, and has a bajillion side chicks and that is definition of Ransom. Even the name is pretty ridiculous. As much as I thought he was an awful person and such a player, he helped Sam live a little and through that played a small role in her development. Jeremy on the other hand is just all feels and cuteness. The childhood best friend who is not afraid to voice his opposition to some things but remains a reliable companion throughout the novel.
There's not much to say other than Sam is a coding genius, her relationship with Jeremy is adorable, and this book portrays the struggle of overcoming bullying really well. I have to say I still kind of wish it was a historical fiction society but this was pretty good as well.
3.5 out of 5 stars