Source: Oops I Read Again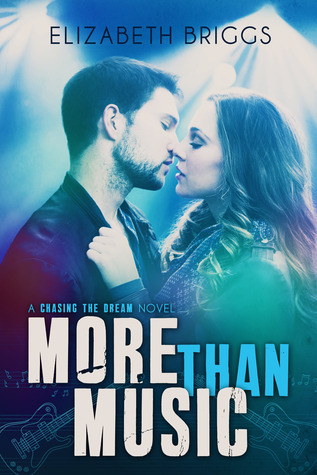 Music major Maddie Taylor just finished her junior year of college and has a summer internship lined up with the LA Philharmonic, yet every night she practices guitar and secretly dreams of a louder life. But geeky girls like her don't get to be rock stars. That is, until tattooed singer Jared Cross catches her playing guitar and invites her to join his band on The Sound, a reality TV show competition.
Once on the show, Maddie discovers there's more to Jared than his flirty smile and bad boy reputation – and that he's just as big a geek as she is. With each performance their attraction becomes impossible to ignore, but when the show pressures them to stay single they're forced to keep their relationship secret.
As the competition heats up, Jared will do whatever it takes for his band to win, and Maddie must decide if following her dream is worth losing her heart.
Hi everyone! Welcome to my tour stop for the More Than Music book tour. Don't forget to click the tour banner up above to check out the other tour stops!
Maddie Taylor is a music major with a secret rock side. From afar, she has always been secretly in love with Jared Cross, the lead singer and guitarist of Villain Complex. When their bassist quits just days before their audition on The Sound, Jared gets on his knees (literally) and begs Maddie to save them and join to help balance their numbers out. Halfheartedly, she agrees and finds herself thrust into a world of competition where her heart becomes at risk of being lost.
More Than Music was an extremely fast read for me. I flew through the story really quickly and after finishing it, I am pretty sure I was smiling. The story is a really wonderfully written book that intertwines music and passion together. Not only do you fall in love with the characters, but you also fall in love with the music. I'm not a huge rock music fan, but I searched up the pieces mentioned and Elizabeth Briggs definitely did an amazing job in picking music that fit the mood of the story.
I loved the world of The Sound where this story takes place. I'm a huge fan of the Voice and I'll admit that the concept of it was what drew me to the story in the first place. The construction of The Sound was absolutely stunning. I've watched enough episode of the Voice to be able to see the parallels and at the same time, the differences. I loved the descriptions of life on a huge music competition show, how behind the scenes everything was, and most of all the "corruption" and secret workings of the music industry. It was really cool to see the masterminds behind a big show and how they could be manipulated and manipulate others.
Okay, now onto the romance. I loved Maddie and Jared as a couple and the idea of a good girl and a play boy isn't something new. I feel like a lot of aspects of their relationship were pretty predictable, but then again, aren't most romances. What made it different from the rest was definitely the cute geeky references. I laughed so much and felt like a total geek, but hey, who cares. More than anything, the characters were so distinct and easy to that the romance was unique because the characters themselves were unique and special.
More than Music is definitely a book that will sweep you off your feet. It amazingly binds together music and passion together and like I've mentioned at least a couple times before, the characters are amazing and deep. The story is super easy to get swept into and before you know it, it'll be the final battle rounds. :)
Kyle got behind his keyboard, Hector sat at the drums, and that left me and Jared up front. My sweaty fingers dropped my guitar pick, and when I went to grab it, my knees nearly gave out from under me. When I straightened up, Jared stood right in front of me, his bass hanging from his neck.
"Ready?" he asked.
"Um, as ready as I'll ever be." Which was to say, hell no. I smoothed my hair and yanked the bottom of my dress down, wishing I had a mirror to check how I looked one last time.
"Just have fun. It'll be over before you know it." He brushed a finger against my cheek, making me shiver. "Stray eyelash," he explained. "You look amazing, by the way."
Our eyes locked, and for a second, it was only the two of us on stage, about to make music together. He offered me one of his heart-stopping smiles, and it gave me the strength I needed to go through with this.
The stage began to turn, ending the moment. Jared and I moved back to our positions in front of our mics as the roar of the crowd grew louder and spotlights flashed in our eyes. My heart pounded as an entire sea of faces stretched before me. And in front, the four musicians who would decide our fate.
This was our one shot to change our futures forever. Our one moment to lose ourselves in the music and hope we brought the audience along with us. Our one chance to turn our dreams into reality.
I was ready.
a Rafflecopter giveaway
3.75 out of 5 stars
Foreverly Obsessed,