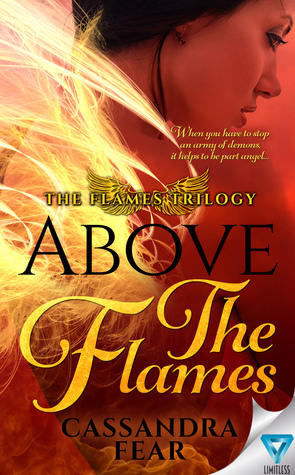 ISBN:

978-1680585858


Pages: 396
Source: Xpresso Book Tour
Publication Date: April 7, 2016
Initial Reaction:
Jasmine's sixteenth birthday was the worst ever…
All in one day, her dad died, she met a demon, and her mother rejected her existence forever. After all, the demon who killed her dad was there to take her, and all because of her stupid powers—the ability to conjure blue flames.
Two years later, she's happy. But happy never lasts…
After moving to Idaho to live with her grandparents, Jasmine has a new life. Almost nobody knows about her powers, and she's just a normal teenager with normal problems. Then comes her eighteenth birthday—and the earthquake that changes her world forever.
An army of demons rise from Hell. And Jasmine is right in the middle of the battle…
When demons claw their way to Earth, Jasmine is surrounded by hundreds of fire-eyed beasts. Worse, she is captured by a big-shot demon named Bael. He's a tricky foe with a chip on his shoulder—and the desire to make Jasmine use her powers for evil.
Amon is a fallen angel with an attitude—and everything to lose.
Successfully escaping the underworld undetected, Amon is on a quest to regain God's grace when he rescues Jasmine from the clutches of a particularly nasty demon he knows all too well. The attraction between him and the not-entirely-human captive is instantaneous. Heavenly sparks fly, but ideas of romance will have to wait. First they have to stop the demon race from wiping out the mortal realm. Humanity's fate rests in their hands.
Can two troubled angels rise above the flames to ensure a future for mankind? Or will Jasmine and Amon's souls be bound together—in hell?
The demons have won and are preparing to take over the world one city at a time. Jasmine is just a normal girl with some abnormal powers and she's caught up in the middle of this chaotic heavenly war. After her 16th birthday when her father died protecting her from a demon, she's tried her best to keep her powers hidden. When the demons being destroying everything in sight, she teams with Amon and his band of fallen angels to try to stop the demons from wiping out all of humanity.
The first word that comes to mind for this book is intense. From the first chapter, Jasmine's father is brutally killed by a red eyed demon and her mother essentially disowns her from the family. Fast forward a couple of chapters, the demons have officially won the war and need to slaughter towns in order to incur enough bloodshed to break Lucifer's chains. So many things begin to happen at this rapid pace and Jasmine is forced to keep her head up admist all the chaos.
Jasmine's power is so interesting I don't think I can put it into words. From what I can understand, she is able to gather energy to create shields as well as little balls of "ammunition" to fire at demons. Also, if she concentrates hard enough she can focus the energy on one spot and burn the thing (preferably demon) she is targeting. Her character is firmly rooted in her love and dedication to people she cares about. While I didn't exactly like her relationship with Beau, I still honored a lot of her choices (Beau seemed a bit...too clingy?)
The plot line of the story is really well written and I really enjoyed the whole angel demon aspect. There's plenty of intrigue, romance, and a paranormal elements to satisfy every person out there. Overall, this was a great start and I'm definitely keeping an eye out for the sequel!
GIVEAWAY
AUTHOR BIO:
Cassandra Fear lives in Ohio with her husband, two kids and two dogs. Hiking, taking care of her fish tank and reading are her favorite hobbies. She loves chocolate, hates driving in the snow and could eat macaroni and cheese every day. In her spare time, she loves to write, and has always dreamed of becoming an author. Her dreams will become reality with her first book, Above the Flames.
3.5 out of 5 stars