ISBN:

1622664728


Pages: 320
Source: Entangled Teen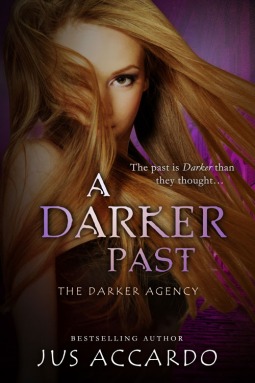 The past is Darker than they thought...
Between helping her mother with the Darker Agency and laying the smack down on monster baddies, Jessie Darker puts the "normal" in paranormal. But lately, things have gotten a little crazy...even for a smart-assed half-demon teenage girl.
For starters, Jessie's been contracted into fifty-five years of annoying servitude. To a demon. Then there's Lukas Scott, her sexy new boyfriend. Once the former incarnation of Wrath, he's been going through some...uh, changes. Like residual anger. And trading chaste hangouts for lusty make-out sessions.
But it's when Lukas and Jessie accidentally release a Very Nasty Demon that things get really bad, setting into motion a chain of death and mayhem that threatens both Earth and the Shadow Realm. Jessie has exactly four days to fix it...before all of Hell breaks loose.
Hey everyone! Sorry for the long absence. Last week was Quarterly Exams so I took a break from blogging and reading. I got the chance to read a couple books over the long weekend while studying for Subject SATs so hopefully I'll be able to post a bunch of review this month. I know I definitely need to catch up on reviewing. Anyway, today is the release day for A Darker Past which is book 2 in the Darker Agency series. I was sent a copy by Entangled Teen for review, so let's get into my thoughts!
I thoroughly enjoyed this book. My biggest problem was I didn't know it was a second book which was definitely my fault. The synopsis sounded intriuging so I just went along with it. I definitely wished I could rewind time and read the first book before reading this one, but as far as piecing things together it wasn't that bad. The only things that threw me for a loop were the relationships between characters and some of the character development.
Jessie was a pretty solid main character. She's spunky, full of fire, and makes you laugh throughout the book. Her fiery attitude unleashes a pretty nasty demon but the events that lead up to that had me laughing. I wish I could have gotten to see her grow from the first book, but I was happy that I still got the opportunity to see her grow in this book. Lukas was an okay character for me. I couldn't understand him as much, but I did like his relationship with the Darker family. The relationship between Jessie and Lukas was pretty memorable. You got to see them work through different aspects of their relationship and really see how strong it is at the end.
The adventure itself was action packed and kept me hooked from beginning to the end. I don't want to say more about it, but definitely be prepared for a thrilling experience. Overall, the book was definitely enjoyable, now I just need to backtrack to read Book I and all will be well. :)