Safe Haven by Nicholas Sparks
Appearance: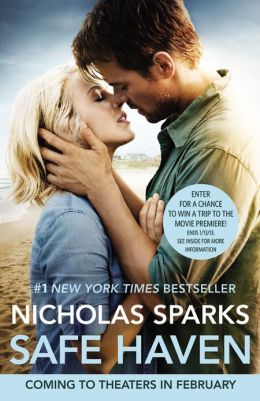 Summary: (From Shelfari)
When a mysterious young woman names Katie appears in the small North Carolina town of Southport, her sudden arrival raises questions about her past. Beautiful yet self-effacing, Katie seems determined to avoid forming personal ties until a series of events draws her into two reluctant relationships: one with Alex, a widowed store owner with a kind heart and two young children; and another with her plainspoken single neighbor, Jo. Despite her reservations, Katie slowly beings to let down her guard, putting down roots int he close knit community and becoming increasingly attached to Alex and his family.
But even as Katie begins to fall in love, she struggles with the dark secret that still haunts and terrifies her...a past that set her on a fearful, shattering journey across the country, to the sheltered oasis of Southport. With Jo's
emphatic
and stubborn support, Katie eventually realizes that she must choose between a life of transient safety and one of riskier rewards...and that in the darkest hour, love is the only true safe haven.
I read this book a couple months ago and I have to say, it's one of the best books I've read this entire school year (2012-13)!!!
It is so easy to just fall in love with characters within the first couple of chapters. Katie is so shy and reserved but you can easily tell that she has a heart of gold.
Alex is truly a knight in shining armor. He's super sweet and an all in all perfect man.
Why am I always obsessed with fictional characters???
Anyways, Kevin, I think that's his name...yup, confirmed with Shelfari...I utterly despise. He's so over-dominating, so arrogant, so frustrating, and a SOB.
Yes, that is exactly how I feel. Sorry that these gifs are breaking up the review. And yes, I want to kill Kevin. For every single horrible thing he has done to Katie and for hurting my hero. You freaking knocked him over with a bar!!
Hmmm...my favorite part of the book is definitely the ending. The whole book is amazing, but the ending is extra extra special. Katie finds that (quoting from the summary) "love is the only true safe haven" and she finds the surprise that her outgoing neighbor Jo has been the
spirit of Alex's wife because after she died from cancer, her spirit stayed around to make sure he was going to be okay. When Katie came into town, she knew that Katie was the one for Alex so she made herself visible to Katie and they became friends.
Sorry, I didn't want to spoil the book for anyone who has never read it, but that has got to be the absolute SWEETEST things EVER!!!
I need something to convey my feelings and since I'm starting to use gifs...
And now a new addition to my book reviews:
"There are dreams that visit us and leave us fulfilled upon waking, there are dreams that make life worth living."
"Everyone has a past, but that's just it - it's in the past. You can learn from it, but you can't change it."
"I'm not sure anyone's life turns our exactly the way they imagine. All we can do is to try to make the best of it. Even when it seems impossible."
"People will tell you most of the story...and I've learned that the part they neglect to tell you is often the most important part. People hide the truth because they're afraid."
"That's the thing about life. A lot of times, it isn't easy at all. We just have to try to make the best of it."
"Love doesn't mean anything if you're not willing to make a commitment."
"Maybe I don't want to be defined by what I do. Maybe I'd life to be defined by what I am."
Foreverly Obsessed,
EvlOne