ISBN:

1622663683


Pages: 320
Source: Entangled Teen
Publication Date: September 2, 2014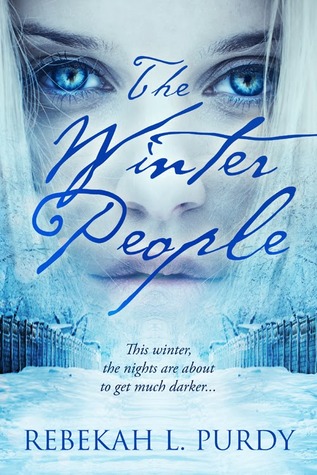 An engrossing, complex, romantic fantasy perfect for fans of Kristin Cashore or Maggie Stiefvater, set in a wholly unique world.
Salome Montgomery fears winter—the cold, the snow, the ice, but most of all, the frozen pond she fell through as a child. Haunted by the voices and images of the strange beings that pulled her to safety, she hasn't forgotten their warning to "stay away." For eleven years, she has avoided the winter woods, the pond, and the darkness that lurks nearby. But when failing health takes her grandparents to Arizona, she is left in charge of maintaining their estate. This includes the "special gifts" that must be left at the back of the property.
 

Salome discovers she's a key player in a world she's tried for years to avoid. At the center of this world is the strange and beautiful Nevin, who she finds trespassing on her family's property. Cursed with dark secrets and knowledge of the creatures in the woods, his interactions with Salome take her life in a new direction. A direction where she'll have to decide between her longtime crush Colton, who could cure her fear of winter. Or Nevin who, along with an appointed bodyguard, Gareth, protects her from the darkness that swirls in the snowy backdrop. An evil that, given the chance, will kill her.
Hello everyone! Welcome back to another review! I'm so sorry for how much I've been slacking off lately with blogging. I originally planned to post every other day through August to cut my reviewing pile down...obviously that didn't happen. Anyway, school starts in ONE WEEK which is absolutely insane so I need to get working on my reviews
With that being said, let's just jump into my review~
Ever since she fell through the frozen pond in her grandparents' background, Salome Montgomery has feared everything relating to winter. She is constantly haunted by the images and voices of strange beings and visits to her therapist only make things worse. When her grandparents' health takes a turn and they need to travel to warmer conditions, she is charged with managing their estate while their gone. For years she has never been on their property alone and this time she can't avoid the voices. Salome finds herself wrapped up in the world of the faeries and her importance in breaking the curse that surrounds her family. If she doesn't figure out how, she'll die like all the other girls before her who failed.
This book was one seriously creepy read. I'm reading this during the summertime mind you and it's blazing hot outside but I got chills. The writing is so mesmerizing and haunting that I couldn't stop reading. I remember when I first picked up this book, I couldn't get into the story but so much has changed a year later. I swear I looked up multiple times while reading and found myself so confused to see that the world in front of me wasn't covered in snow. Everything about this book is magical and just transports you into the story and the beautiful (creepy) world.
Now before I talk characters I have to address the very awkward love...rectangle? So the synopsis of the book mentions four characters: Salome (main character), Colton (first love interest), Nevin (mysterious person), and Gareth (Nevin's appointed bodyguard for Salome). Yes there arises some romantic interest between Salome and all three guys and while I thought it was really awkward and a bit too much, at the same time I wasn't too concerned with it. I knew who I wanted her to end up with and I knew it was going to happen. With Colton especially, I knew it wasn't going to last long when he started acting all crazy and possessive. So to sum up the interesting love situation...I wasn't too bothered by it.
All right, now to the fun part: characters. I didn't exactly love Salome as she did some pretty dumb things and always managed to land herself close to danger/death. The most frustrating part was when she kept demanding answers and when her grandmother told her to look inside a chest she took CHAPTERS to actually do it. While I understand there's an aspect of fear to it, especially since she nearly died multiple times, if she wanted answers so badly (like I did) she should go for it and not drag it out. While her actions did get on my nerves, I liked how she wasn't the perfect heroine. Like I mentioned, she did a lot of dumb things, but it made her more relatable because she wasn't a super heroine with a perfect life.
As for the guys in question...I knew Colton was bad news from the beginning. He was just too interested too suddenly so I found myself disliking him pretty quickly. Nevin and Gareth is where the struggle began. Like I said, I knew who I wanted Salome to end up with pretty quickly, but as individual characters I really liked both of them, but Nevin in particular. Gareth is just a really great guy through and through, but Nevin is hella complicated. There is so much backstory and intrigue to his character I loved how the story just unfolded around him. He made some mistakes but he has spent so long paying dearly for what he did.
Before I wrap things up, let me just repeat that this book is really haunting and even borderline creepy but in a fantastic way. I loved the revelation at the end of the novel and how everything just fell into place. The very ending seemed a bit too much of an ending, but since I know there's a second book I can't wait to see what crazy adventure will happen next!
*Huge thanks to Entangled Teen for sending me a copy to review. All thoughts are 100% my own*