ISBN:

0062235672
Pages: 296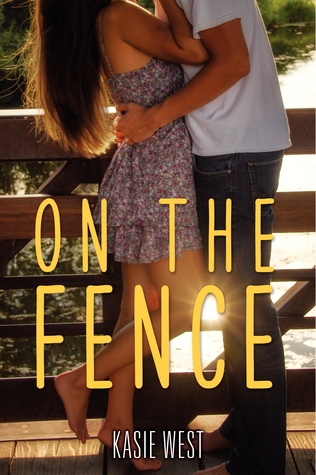 For sixteen-year-old Charlotte Reynolds, aka Charlie, being raised by a single dad and three older brothers has its perks. She can outrun, outscore, and outwit every boy she knows—including her longtime neighbor and honorary fourth brother, Braden. But when it comes to being a girl, Charlie doesn't know the first thing about anything. So when she starts working at chichi boutique to pay off a speeding ticket, she finds herself in a strange new world of makeup, lacy skirts, and BeDazzlers. Even stranger, she's spending time with a boy who has never seen her tear it up in a pickup game.
To cope with the stress of faking her way through this new reality, Charlie seeks late-night refuge in her backyard, talking out her problems with Braden by the fence that separates them. But their Fence Chats can't solve Charlie's biggest problem: she's falling for Braden. Hard. She knows what it means to go for the win, but if spilling her secret means losing him for good, the stakes just got too high.
Hey guys and welcome to my review for On the Fence by Kasie West! I've been anticipating this book for so long ever since I read The Distance Between Us in 2013 and I'm so glad I finally got around to reading it! With that being said, let's get into my thoughts!
On the Fence follows Charlie Reynolds who is your typical tomboy with three older brothers. She also has a thing for speed and when her dad finds out about her one too many speeding tickets, she's forced to work to pay off her culminating fee. The easy step is to find a job, the hard step is to step into the world of makeup, fashion, and everything girly. Since her mother died when she was young, Charlie has no clue how to be a girl so this new world is taking her some time to get used to. Something else that she needs to work out is her newfound feelings for her next door neighbor, best friend, and basically brother number four: Braden. Their nighttime fence talks are secret but she needs to figure out if she's willing to take the chance and admit her feelings.
This book was adorable! That's honestly the first word that pops into my head because I was torn between aww-ing and laughing. I read this on the subway in NY while going to the dentist and I swear people were looking at me funny because I couldn't keep that darn huge grin off my face. Kasie West manages to create yet another really heart warming novel with a serious punch added into the mix which I love about her stories. On the Fence discusses the concept of being a girl, which I know is a very very difficult thing to wrap your mind around, young love, and facing a truth you might not want to face.
Charlie is your typical sport tomboy, I mean what can you expect when you have three older brothers? The story really explores her femininity and accepting that if someone likes you, they should like who you really are, not a projection. Her fence talks with Braden were adorable, they way they get to know each other on a deeper level and talk about their dreams just really made you feel all giddy inside. Charlie also deals with PTSD of some sorts. She was in the car accident that took her mother's life and still gets nightmares of the event. As the story unfolds, some things are revealed and Charlie has to face that fact that maybe her mother wasn't the saint she always thought she was.
Braden is another typical boy next door and best friend character. He is kind of thick headed especially when it comes to telling Charlie how he feels about her. Despite that, he still brings a very important lesson into her life which is to never stop being yourself for the sake of pleasing someone else. Like Shrek says, warts and all (that was Shrek right?) Braden's lived a tough life with an alcholic and abusive father, but he still manages to see the bright side of things and still be happy. When I found out about his family, I was a bit worried that we could get a troubled relationship where the guy is afraid of turning into his dad, but thank goodness that wasn't the case.
I cannot not talk about the brothers. There's Jerom, Nathan, and Gage and each bring a little bit of something into Charlie's life. My favorite line in the entire book is this:
"Hey guys," I said. "Don't be idiot. This is Evan. Evan, the angry-looking one is Jerom, the constipated-looking one is Nathan, and the goofball on the right is Gage."
Gage laughed, "Constipated, Nathan? We said to look fierce."
Is it possible for one comment to completely sum up the relationship between Charlie and her brothers because I think this is the quote. For context, Charlie is introducing a potential boyfriend to her brothers. They're just an adorable rough housing bunch who make you laugh and will stand by their sister no matter what. It really makes me wish I had older brothers...to some extent.
Of course there's other characters to mention: Evan (potential boyfriend), Amber (new and guide to the world of makeup), and Linda (employer and to some extent a mom-figure). I will admit, I was not a fan of Evan because I was rooting for Braden, but he's not a bad guy; he just didn't fit Charlie. Amber's character was a bit stereotypical with the makeup and bubbly-ness, but in the end it all worked out. Linda was definitely a really interesting character. She acted on a different "spiritual" plane, always reaching out to Charlie when her aura felt wrong and trying to connect with her. While she isn't her mom, Linda played a pretty big part in the role.
Okay, overall I really enjoyed this book. It was the perfect thing to pull me out of the reading slump I've been feeling lately. So in short, definitely recommend it and I can't wait to see what Kasie West is planning next!
3.9 out of 5 stars
Foreverly Obsessed,