ISBN:

1633750302
Pages: 200
Source: Entangled Publishing
Appearance: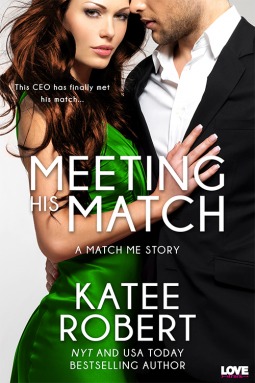 A satisfying category romance from Entangled's brand new Lovestruck imprint…
When New York matchmaker Addison St. Claire is tasked with matching her best friend's new brother-in-law, she almost refuses. But the sexy southern CEO turns out to be a challenge she can't resist, because if anyone needs to meet his soul mate, it's
this
man. And if matching him with someone else removes the temptation of being near him? Even better.
The last thing Caine McNeill needs is a matchmaker—especially a gorgeous redhead who spouts nonsense about soul mates, critiques what he drives and how he dresses, buys him a
dog
, and pesters him about a million little things he couldn't care less about. It's a crying shame he has to keep his hands off because chemistry like what's flaring between them ought to be explored. Thoroughly.
And so the battle begins. Addison is determined to stick to her plan of setting him up on dates with other women, and Caine is equally determined to ignore these women and seduce
her
.
Hey everyone! Welcome to my review of Meeting His Match! This lovely book comes out TOMORROW so don't forget to click on that cover up above and check it out! All right, let's get into the review :)
Addison St. Clair is one of the best matchmakers in New York City. When her friend calls and asks for help regarding her brother-in-law, Addison is not prepared for the man she was set up to match. Caine McNeill is the CEO of a huge company and getting a woman is the last thing on his mind. So imagine how shocked he was when the sexy bridesmaid from his brother's wedding shows up at his office door, buys him a dog, settles into his house, and starts sending women his way. The only problem is, he's not interested in any women except her.
Okay, *squeals with excitement*, this book was absolutely adorable. I've been reading a ton of Young Adult lately so it was nice to kick back and enjoy an Adult Contemporary. The characters in adult books are just so much different from those in young adult ones that it's fun to kind of switch it up from time to time.
Addison is such a jewel. She's spunky and gorgeous and super dedicated to her job. Ever since losing her high school sweetheart and husband 6 years ago, she believes that he (Aiden) was her soul mate and the only one for her. With his death, she's basically alone for the rest of her life because she's been brought to believe that we only get one soul mate per lifetime. Her feelings toward Caine are totally unprofessional and should be ignored. She had her chance at happiness and now it's time for her to find his soul mate.
Caine is a workaholic. He is in a steady and serious relationship with his job. When Addison blows into his life, he's not entirely sure what to expect. When they sort of met at Brock (his brother's) wedding, he was a bit intrigued by her but didn't do much to gain her attention. Now that she's living in his house, he finds it a bit hard to ignore her. When she starts setting his up with her other successful female clients, he realizes that his feelings might be more than just friendly. The problem is, she's pretty adamant that they can't be together because she already had her chance with her soul mate and it wasn't him.
This book is absolutely adorable...I said that already...and full of fun scenes and lovable characters that make you laugh. There's a really beautiful message that everyone deserves a second chance at love. Definitely recommend and the great thing is that I'm 110% sure Meeting His Match is a book you can read over and over again and still love it! :)
4 out of 5 stars
Foreverly Obsessed,